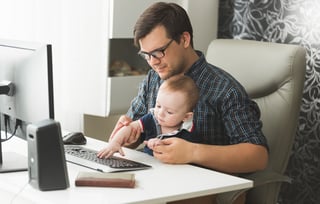 On your resume, a time gap between jobs will always provoke questions. When the subject of a career break comes up, know that there are many reasons for such a gap: child care, health issues, family matters, education, travel… the list goes on.
Not working for a period of time should not be viewed as a negative matter. Life happens and we should not hesitate to acknowledge that. For this reason, be confident when you jump back into the workforce. When the question of your career gap comes up, be confident in the choices you made to take the break in the first
place.
With that being said, returning to the workforce takes, well, work. Being away from a job does mean that you will be out of the loop to a certain degree.
If you are currently in the stages of returning to the workforce, here is what you can do to prepare to restart your career.
Do Your Research
As previously stated, an interruption in your career means there will be some catching up to do with your particular industry. Not only do industries change rapidly in an effort to stay current, but position responsibilities can be altered, too.
Utilize social media, websites, books and connections to familiarize yourself with the current state of your desired field.
When returning to the workforce, doing the necessary research can give you an idea as to whether or not being a part of that industry is for you. If there is a significant change to the field and it no longer appeals to you, research alternative positions where your skills would be appropriate.
Take time to reassess your goals and what you seek in a career. This will ensure that you are applying for suitable positions for your current stage in life.
Add to Your Educational and Professional Background
Re-evaluating your career goals will also allow you to determine whether additional courses will be necessary or not for your return to the workplace.
Considering hours in school may seem taxing, but adding to your educational background by enrolling in a few courses will help you bridge the gap on your resume. You do not have to go back to school full-time in order to be up to date with your career of choice. There are courses you can complete in a mere matter of months.
In addition to education, as you think about returning to the workforce, explore volunteer opportunities. Volunteering, especially, is always a great supplement when returning to the workforce, for it allows you to reintegrate yourself into your chosen career. Furthermore, doing volunteer work will help add to your professional experience and will give you material for job interviews. Regardless of the break in career, showing that you kept working in some form will convey continued interest.
Utilize Your Connections
Do not shy away from reaching out to friends, acquaintances, and former supervisors to ask about job prospects. Don't feel self-conscious about returning to the workforce. Utilize any and all networks to gain some insight into the industry you hope to rejoin.
Additionally, do not discount staffing agencies in your course of returning to the workforce. Getting professional help is always a viable option. Especially in the event of a career change, where your connections may be few, staffing agencies can connect you with the right company to jumpstart your return to the workforce.