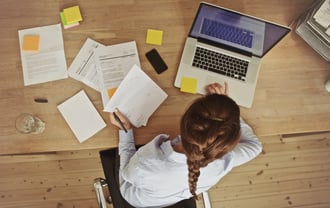 Whether you're looking to return to the workforce after taking a career break to find yourself, to raise your children, to travel, or for any other reason, finding a job after a long hiatus can be daunting. It can be stressful, nerve-wracking, and difficult. Although it can be tougher to re-enter the job market after time off, it's not impossible. Just use these tips for a speedy and successful re-entry.
Update Your Resume
Though you might not have any new workplace experience to mention since you last held a professional job, you've probably acquired some great skills, particularly transferable skills that you can highlight on your resume. You might have also taken part in other valuable activities that employers might appreciate, such as volunteer work, continuing education courses, or participation in professional networks. Think carefully about the skills and experience that you've built up since you've been on your career break and spin them in a way that will impress hiring managers.
In addition, it might be best to use a functional resume rather than a chronological one. Instead of placing your work experience at the top, move this section down to the bottom. Place your skills and successes at the beginning of the resume. It will give you a leg up with recruiters and managers who scan resumes from top to bottom.
Work on Your Skills and Experience
If you were out of work for many years before you decided to return to the workforce, then it's understandable that you might no longer be the expert that you once were in your career. You might not have kept up with new trends and best practices and you might have lost skills because you haven't been practicing them regularly. You need to overcome this obstacle in order to show potential employers that you're still a force to be reckoned with.
You can take part in a volunteer program to practice and improve your skills. If you're looking to re-enter the IT field, then volunteer to build a website. If you're a nurse by profession, then volunteer at your local hospital.
Take classes to refresh your skills and knowledge. This will show that you're proactive in getting back up to speed.
Attend conferences or seminars in your industry to get back up to date with the latest trends and happenings in your field.
Last but not least, research from home. Subscribe to professional journals, check out reliable websites, buy new books, and stay up to date by learning about the latest discoveries and research in your industry of choice.
Practise Interviewing
Your last interview might have occurred several years ago, so it would be wise to practise your interviewing skills. Write out answers to common sample interview questions online to ensure that you're ready for anything. Get a friend to perform a mock interview with you. And perhaps most importantly, practise explaining the gaps in your experience. Make sure not to sound apologetic about your career break, but instead, highlight your time off by demonstrating how you put that time to use.
Engage a Staffing Agency
Need help re-writing your resume? Need practical interview tips? Need help getting your foot in the door or getting the attention of hiring managers? Then engage a staffing agency. Working with a staffing agency can be the easiest way to return to the workforce. The agency will do all the legwork, will have valuable advice to share, and will have a wealth of contacts and job opportunities that you'll be able to take advantage of.
Ready to take the leap and return to the workforce? Get in touch with Liberty Staffing to get started on your job search.