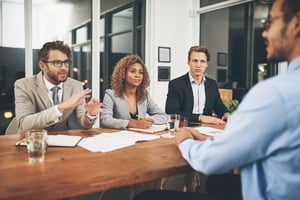 Now is the time to start preparing for the impending summer holidays. The fast-paced nature of the holidays is both a blessing and a curse for local businesses; on the one hand, you receive more customers, but on the other, productivity often suffers as employees take vacation.
In order to handle the extra workload during the summer holidays, your business should consider hiring temporary staff. Seasonal hiring is the perfect strategy for scaling up your operations for the summer, with several other benefits offered.
Want to know the best way to find and hire temporary staff for the summer holidays? Liberty Staffing would like to offer you some tips. Read on.
Engage a Temporary Staffing Agency
Canadian temporary workers are among the most skilled, including university students and professionals looking for supplementary income and improved work-life balance. If you need several temporary workers for your summer workforce, your best bet is to engage a temporary staffing agency.
Temporary staffing agencies offer multiple employment options to choose from. For instance, if you just need extra hands throughout the summer, then the agency can provide temporary workers on fixed contracts. If you're also looking ahead for potential hires after the holidays, then the agency can offer you temporary to permanent workers as well.
This latter option gives you the ability to evaluate potential hires for an extended period of time without a long term commitment. Assessing cultural fit doesn't have to be a hassle.
Make Sure the Staffing Agency Can Provide for Your Industry
Great staffing agencies don't just look to fill work orders, they specialize in a niche market. Specializing makes them experts inhiring temporary staff suited to specific industries. Liberty Staffing, for instance, specializes in providing flexible staffing solutions for office, warehouse, and industrial businesses within Ontario. Their goal is to help businesses like yours solve evolving staffing issues, like seasonal hiring for the summer and proactive hiring strategies for the fall.
Account for New Changes to Canadian Compliance
The last thing your temporary staffing strategy needs is a way to ensure you're following all the rules and regulations regarding temporary staffing. As of November 2017, Ontario has implemented its Bill 148 a.k.a. the Fair Workplaces, Better Jobs Act, which has brought major changes to workplace laws.You need to account for all these changes, including minimum wage, equal pay for equal work, and health and safety standards.
Staffing agencies like Liberty Staffing are experts in Canadian compliance and have access to award-winning proprietary software that helps them handle payroll in a compliant manner. Outsourcing your temporary staffing process to a compliant staffing agency is a sure-fire way to meet the demands of Canadian business legislation.
Your business will ensure optimal staffing levels when you have access to a steady stream of skilled workers. Engage Liberty Staffing today to find and hire temporary staff and prepare for the summer holidays.