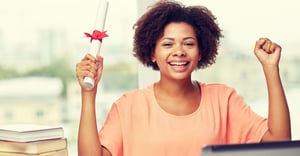 Spring is right around the corner, and with it, graduation. Whether this is your first degree, or you've gone back to school, you'll be ready to hit the job market in the next couple of months.
You know you don't want to wait until you've graduated to start the job search. Many companies are already doing their spring hiring, so if you don't start soon, you may find that there aren't many positions to choose from.
Getting a head start is also smart, because it helps you beat the rush. You're not the only one in your class graduating, and you're most definitely not the only person in your field seeking a job come April.
Looking for a job? Let Liberty Staffing connect you to the jobs you want. Apply today!
That's why you're here. You're starting early, but you're wondering what other steps you can take to land your first job. Working with a staffing agency like Liberty Staffing could be a smart move. Here's how we can help.
Get to Know Local Employers
The first way our recruiters can assist is by connecting you to local employers. You may not be aware of some of the businesses hiring in your field. Similarly, they may not advertise their jobs because we are recruiting on their behalf.
If you're looking for jobs, then connecting with our team is a great way to get a look at the local landscape.
Discover What Employers are Looking for
Since we handle so many job postings, we have a good idea of what employers in your area or field are looking for. With this information in hand, you can tailor your resume to get the positions you want.
We share insights about currently in-demand positions, as well as what skills employers require. We can even help you determine how well your skill set lines up with what employers are looking for.
Find Current Job Openings
Another way Liberty Staffing can assist you is by connecting you with positions that are currently available. You could try to send out resumes to employers you want to work with, but unless they're hiring, you probably won't hear back.
Instead, we'll point you to what's on the market. Since we use a wider network than you might otherwise, we'll assist you in finding more open positions. There's no need for you to turn over every stone on your own. We can most definitely help by leveraging our network.
Discover Your Talents
If you're not sure what roles your talents and skill sets are suited for, we'll help there too. We can match you up with current openings in our system. We can also screen you for skills.
We use these tools to help find you the right placements. When you're in the right role, you should be able to use your talents and skills to succeed.
If you're not sure what you want to do after graduation, that's okay too. We can guide you in exploring roles and career paths you're interested in. By taking on some temporary roles, you can try out different jobs, discover your talents, and find out what really works for you.
Great Resources and Advice
When you work with the team at Liberty Staffing, you're working with the experts. We provide great advice, and insight to help you on your job search.
Not convinced? Check out our library of blog articles. We have all sorts of tips for job seekers; from preparing resumes, to acing your next interview.
Start Building Experience
Working with us could help you start your career on the right foot. You may not land your dream job right out of school. By working with Liberty Staffing, you can explore job options that will help you begin working toward that dream job. You can gain vital experience and continue to sharpen your skills.
Ready to get started? Get in touch with Liberty Staffing today!