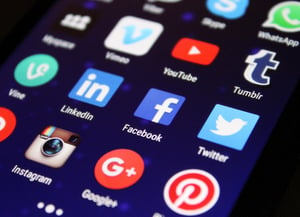 Job searching through the newspaper is a thing of the past. Most jobs (if not all) are posted online, whether it be on popular job sites like Indeed or ZipRecruiter, or on a company's site.
Have you considered job searching on social media? More and more companies are posting their open positions on social media.
Social media is a great way to connect with friends, family, coworkers, and like-minded individuals. A lot of social media platforms have expanded their services to include job advertisements. Platforms like Facebook and LinkedIn are great examples of social media outlets that have built in job advertisement and application systems. Twitter, YouTube, and Instagram are also great platforms for companies to use to spread the word that they're hiring internally.
It's easy to apply to a job on social media. On certain social media platforms, it can be as easy as clicking a button to send your resume/application. Liberty Staffing Services uses multiple social media platforms to recruit for positions. We would like to provide you with some tips when job searching on social media.
1. Clean Up and Update Your Profile
If you're applying to a job opportunity on LinkedIn, chances are that the hiring manager will be looking up your profile. After all, they want to get to know more about you. It's a good idea to clean up and update your social media profile on LinkedIn before you apply to any job opportunities.
An employer may even look up your Facebook profile if you've applied to an opportunity on the platform. While Facebook is seen by many as a personal platform, rather than a professional platform, you can always change your privacy settings to appear more professional.
2. Keep Your Options Open by Using Different Platforms
If you're looking for a new job, always keep your options open. You may think that office roles would only be posted on social media platforms like LinkedIn. However, many hiring managers are posting their positions to Facebook as well.
Always remember to keep your options open when searching for work. Search on every possible platform and outlet that you can think of.
3. Network and Follow Organizations
The great thing about social media, particularly LinkedIn, is that you can network with professionals, and follow organizations that are of interest to you. A lot of people share positions that their company is hiring for, especially if they are recruiters.
If you have a company that you're interested in applying to, but they don't have any current positions available, you can always follow the company on social media to stay updated on their latest openings. If the company is active on social media, chances are that they will post or tweet about a new internal position.
Interested in applying to Liberty Staffing? Check out our job board for our most recent opportunities.
4. Use Search Tools
Most social media platforms have search bars, or other search tools that you can use to find jobs that are applicable to you. For example, you can use the search tool while browsing jobs on Facebook, LinkedIn, Instagram, etc. You can type in your desired location, and job title, and see what comes up. Then you can apply to the job opportunities from there.
5. Customize Your Resume to the Role
Of course, whenever you're applying to a job opportunity, always take some time to update and customize your resume to the specific role. For example, it's not wise to send a resume that's geared to a warehouse role for an office position. A hiring manager will probably send your resume immediately to the no pile.
Need more job searching tips? Contact Liberty Staffing today! Or better yet, if you're looking for a general labour, warehouse, or office job in Ontario, apply with us. We connect great people with great jobs.