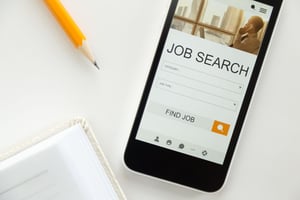 If you're about to graduate this year, chances are you're experiencing some anxiety about landing a job after you step off the stage and claim your hard-earned degree. There's nothing unusual about this, especially considering the fact that precarious work has become the norm in Canada and the student debt crisis is nowhere close to ending.
Most likely, when you graduate, you'll be looking to find permanent work to help you launch your post-grad career. There are a few reliable solutions available that you might not have thought about, some of which involve temporary positions that can turn into permanent work.
Curious about how you can find permanent work before you graduate? Read on for strategies that can lead to a full time job.
Apply to a Staffing Agency with Diverse Options
Applying to a staffing agency may not have been your first idea to find permanent work, but that's because there are persistent myths out there about such agencies. While some staffing agencies do make temporary staffing their niche market, there are agencies like Liberty Staffing that place applicants in a variety of different positions, including permanent roles.
If you apply to a staffing agency that offers temporary, temporary-to-permanent, and permanent applicants, you could find permanent work sooner than you think. You should consider a staffing agency with diverse options because they take the guess work out of the job search process.
Recruiters at a staffing agency focus on measuring your strengths and placing you with an employer that's not only offering the type of work you want, but the kind of work environment and culture you seek. One of the keys to finding a permanent position is to land work in a company that you're culturally fit for.
Take on a Temporary-to-Permanent Position
Temporary-to-permanent positions are often called "try-before-you-hire" positions for employers. In many instances, employers want to be sure they're onboarding candidates who have great potential.
At the same time, if you are graduating this spring, applying for temporary-to-permanent positions could be ideal for kick starting your job search early. Landing this type of position is just as beneficial because you'll get a solid idea of what working in a specific field is like.
These positions help you flex the skills you've been refining in school and gain insight into what types of work you're passionate about. And if your placement works out? You'll have landed permanent employment ahead of the rush for jobs that inevitably occurs after graduation.
Use Temporary Positions to Your Advantage
When you're on your way to graduation, temporary positions can be advantageous as well.
Temporary positions are the perfect way for you to find out what fields of work are the best fit for you, while being gainfully employed as well. Internships offer you practical experience, but little to no security. Temporary positions offer you pay, and a chance to connect in a meaningful way with many employers. You can expand your skills, experience, and network with temporary work, ensuring you're ready to take on a permanent role after graduation.
Do these three strategies sound promising to you? Apply to Liberty Staffing today!