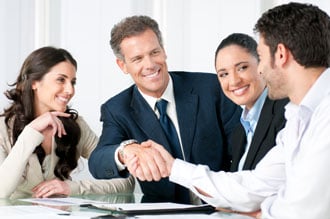 Regardless of what you do or what industry you're in, you know how helpful it can be to have an extra pair of hands at times. Sometimes you're stuck being understaffed or without the required skills that you need. And this can reduce productivity, burn out your current workforce, lead to overtime costs, and lead to risks and liabilities.
Have you considered employing temporary workers? Hiring temps might be the ideal solution.
If any of the situations below ring true with your business, then employing temporary workers might be right for you.
You're in a Seasonal Business
Seasonal businesses see drastic changes in workloads from one season to another. For agricultural companies, summer is the busiest time of the year, but the rest of the time there isn't much demand. For retailers, Christmastime comes with the need for additional workers for a short period of time. For ski chalets, it doesn't make sense to have a full staff during the summer when you only operate during the winter.
Seasonal businesses can benefit from hiring seasonal employees. You can hire as many helping hands as you need as long as demand is high, and then ship them back to the temporary staffing agency once demand starts to slow down and their help is no longer needed. No lay-offs. No commitment.
You're Thinking of Expanding
To be able to ramp up demand while expanding your business, you'll need more workers on deck. But what happens if your expansion efforts fail? What if you don't have the capital required to hire more full-time workers when you might not need them later on down the line? Employing temporary workers can take the risk out of expanding your business and your workforce. If things don't work out as planned, you aren't committed to keeping them on staff.
Your Employees Call in Sick or Go on Leave
Is someone going on maternity leave soon? Do your employees often call in sick, leaving you understaffed? Employing temporary workers is the perfect way to have someone fill in on short notice or for a short period of time. You won't have to overburden your employees or pay them costly overtime when you hire temps instead.
There's a Big Project Coming Up
When a new project comes up, you don't want to have to add to your employees' current workloads. Perhaps your workers don't want to do the tedious work. Perhaps your current workforce doesn't have the skills or experience to get the project completed correctly and efficiently. Employing temporary workers is the ideal solution in this situation. One of the many myths about temporary work is that temps are all low-level, unskilled workers, but temps actually come with wide-ranging skills, education, and experience. You can find a temp to handle a big project, no matter how complex it is.
You're Looking to Cut Costs
Your payroll costs are your company's biggest expense—payroll might make up too big of a percentage of your overhead costs. You have to pay salaries even if there isn't much work to be done. You have to pay health insurance and other benefits. You have to pay for sick days and vacation days. You have to pay your share of EI and CPP, too. All of these payroll costs can add up, limiting your working capital and hurting your profits.
When you hire temps through a temporary staffing agency, the agency will be their legal employer, which means it will pay for all of these costs as well as the costs associated with the administration of payroll, HR, and compliance. You'll pay an hourly fee for the workers plus a markup for the staffing agency, and that's it. Employing temporary workers can reduce your expenses significantly.
If you think you can benefit from hiring temps, contact Liberty Staffing today.