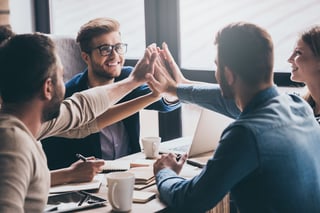 There are plenty of reasons why using a temporary hiring agency would benefit your company, especially if you are in urgent need of additional staff. Hiring can be exhausting and quite the tedious process for the HR department. The key benefit of using temporary hiring agencies comes down to positive impacts not only your HR department, but also your employees.
Contrary to some misconceptions about hiring agencies, choosing to work with a temporary hiring firm can have many benefits for your business. Just to name a few, temporary hiring agencies will save you time, money, and energy with recruiting.
Read on to learn a few more benefits of using temporary hiring agencies.
1. Alleviates HR's Stress
One of the more significant benefits of using temporary staffing agencies has to do with helping your HR department. The amount of work on a company's HR department can often go unnoticed. What's more, the lengthy hiring processes are often an added pressure onto their already extensive schedule.
The knowledge and expertise held by hiring professionals who are knowledgeable about recruiting methods is often greater than that of a company's HR team. This is solely because recruiting is the main responsibility of hiring agencies.
2. Expedite the Hiring Process
Additionally, because temporary hiring agencies have a higher level of expertise when it comes to job knowledge, hiring trends, and recruiting, they are able to recruit potential hires at a much faster pace.
Alternatively, if you choose not to partner with a hiring agency, HR still has to do their job. The main difference is that they will have to go through a fairly lengthy process in an effort to find suitable employees. Going through the whole hiring routine can be very stressful and time consuming for hiring managers, especially if a position needs to be filled quickly.
Because hiring agencies have a wide network of candidates than would take many hours for a business to replicate, another one of the biggest benefits of using temporary hiring agencies is being able to find workers in a short amount of time.
3. Decreases Stress and Increase Productivity
When a member of staff is absent for any reason, their responsibilities are distributed to other staff members. This adds to the current workload of these employees.
Using a temporary hiring agency will ensure you get suitable hires to fill available positions quickly so that your employees don't burn out or become overworked.
4.Increases Flexibility
Hiring agencies have the means of connecting with a wider network of job seekers; therefore, they are able to find and provide companies with candidates with a diverse range, varied background, and many different skillsets.
As a result, one of the benefits of using temporary hiring agencies is an ability to expand on services your business offers. If a client or project requires a certain skill or expertise that your current employees may not hold, this should not be a reason to pass on it. You can find temporary workers with the skills needed to take on the task.
5. It Allows for a Trial Run
Some employees excel in their new work environment, while others may take some time and coaxing to fit in. Using temporary hiring agencies enable employers to adopt a try-before-hire practice. This is where businesses have the chance to observe new hires in their new place of work. They can be assessed in their work abilities, connections with co-workers, and their ability to fit in with the work culture.
With temporary workers, there are no obligations with contracts or promises of full-time employment. However, if a certain temporary employee looks to be an asset to your company, bringing them on full time is always an option.