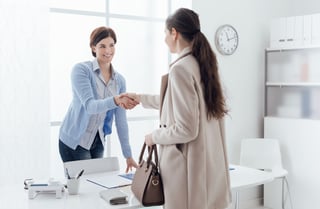 Now more than ever, it's a candidate's market. Canadian unemployment hit a 40-year low in December 2017. While that's good news for economists and workers, it's not great news for employers who are looking for top talent.
If you have a position to fill, you may have noticed it's been getting harder to find the very best people for your company. As unemployment falls, the pool of available candidates also gets smaller.
If you've been having trouble finding the right candidates, you should know a niche staffing firm, like Liberty Staffing, can help you.
They Understand Your Business
A niche staffing firm is different from the large conglomerates that populate the hiring scene these days. While the larger players work with many different companies across a variety of industries, they often don't have expertise in any single industry.
As a result, these larger companies lack a true understanding of your business and its needs. While they may see certain trends in the marketplace, they may be less familiar with the trends in your particular industry.
Enter a niche staffing firm. Its smaller size allows the recruiters to focus on servicing a few select industries. They become experts in those fields, providing keen insight into hiring trends in your industry, not overarching trends across the economy.
Where Are the Candidates?
Another challenge you may run into when working with a larger staffing firm is its inability to find the places your ideal candidates are visiting on the internet. They tend to take a broad approach to job posting. While this can help you reach more people, it may not help you reach more of the right people.
A smaller, more niche staffing firm has a better idea of your industry and so a better idea of where to find the professionals you really need. You may receive dozens of applications if you post your job on LinkedIn, but what about that smaller job board designed specifically for professionals in your field?
All the Same Techniques
Once you've partnered with a niche staffing firm, you'll likely notice it is similar to its larger competitors in many ways. For example, niche firms are using all the same techniques and tools the larger staffing firms will deploy.
Do you need help writing job descriptions? The staffing agency can help you with that. Recruiters also help you with pre-screening and even interviewing candidates for you. They can reach a wider network of candidates, including passive candidates.
What's more, as already discussed, is those wider networks of people are more likely to be specialized in the areas where you need skill. While the network a smaller staffing firm can leverage is still large, it's more narrowly focused on the areas you need it to be focused.
And yes, Liberty Staffing can also help you with temporary, contract, and even permanent hires!
A Better Solution
If you're looking for the best candidates for your business, chances are a niche staffing firm presents a better solution for you. Whether you're hoping to place many people with a specific set of qualifications or you only need to hire a handful of people, the smaller staffing firm will be better able to serve your needs.
It can likely offer you its services for a better price too. Larger companies may not want to work with small companies that are only hiring a few temporary people. If they do give you an offer, their prices will likely be sky-high because you're not purchasing services "in bulk."
If you're seeking the absolute best candidates in your industry, why not partner with a niche staffing firm? You'll see exactly what expertise and experience can leverage for you in this difficult hiring environment.