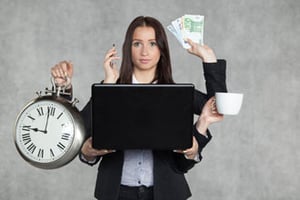 Partnering with a Canadian staffing agency can lead to several marked advantages, including better quality candidates, faster hiring, and better management of fluctuating staffing needs. But one of the top reasons why companies are now flocking to staffing firms for their recruitment and hiring needs has to do with the associated time and money savings they receive.
Here's how partnering with a Canadian staffing agency will save you time and money.
No Time Wasted in House
The hiring process can be lengthy, tedious, and quite time consuming. Once you write up a standout job description and post it, you have to then sift through all of the applications you get. You then have to interview dozens of candidates. You might have to do skills testing and background checks. And you have to call up references. If you haven't found any suitable candidates, then you have to do it all over again, wasting even more of your valuable time.
When you're busy with all of this legwork, the rest of your responsibilities can fall by the wayside. But when you partner with a Canadian staffing agency, you can get back to the work that matters—your core business.The staffing agency will take care of the time-consuming tasks that come with hiring, so you don't have to.
No Overtime Costs
When you partner with a Canadian staffing agency, you'll also benefit from faster hiring. Positions won't be left open for long, so you won't have to worry about having to pay time and a half or more for overtime to get the work done. Plus, if you hire temp workers through the staffing firm, you'll always have as many hands on deck as you need, so no matter when or why you're swamped, you won't have to pay overtime. This can save you considerably on your payroll costs.
Less Downtime
Downtime or even simply reduced productivity can be costly to your business's bottom line. You need ultimate efficiency and high productivity at all times. But when you're short on workers or have positions left unfilled, you must deal with the consequences.
Your staffing agency partner, though, will already have a candidate pool filled with qualified workers that are pre-screened, pre-approved, and ready and able to start working right away, so you can maintain your current productivity levels without a hitch.
No Administrative Hassles
Hiring a new worker in house means that you also have to take care of compliance, payroll, and human resources. You also have to take care of onboarding paperwork, health and safety training, and company-specific training, too. This can take its toll on your small staff. When you partner with a Canadian staffing agency, you won't have to handle these administrative tasks on your own.
Lower Turnover Costs
The Canadian staffing agency you partner with will have valuable insights and industry knowledge that you can use to your advantage. Its recruiters will also have recruiting and hiring expertise and experience. In the end, this means that you'll be able to get better hires. You'll be happier with your new workers, they'll fit intoyour corporate culture, and they'll be happy to work for you—the recruiters will make sure of it. And this will result in better retention and lower turnover costs.
Recruiting, hiring, and managing new employees can be costly and time consuming. But when you partner with a staffing firm, you'll get the help you need for all of these tasks. In the end, you'll save on costs and on time.
Ready to reap the advantages of working with a Canadian staffing agency? Contact Liberty Staffing today.