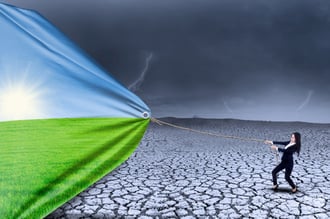 Many businesses face typical and expected fluctuations in demand. Retailers see higher demand during the holidays and can benefit from a temporary seasonal workforce. Agricultural companies are busier in the summer and ski resorts are only open in the winter—so they don't need workers all year round.
Other companies face unexpected fluctuations. They'll get big orders that need to be filled immediately. Their establishments are suddenly busier than usual for no explainable reason, and then the workload slows back down.
Whether you have expected or unexpected changes in demand, you need to manage them. You need to ensure that you have the right number of workers on site to stay efficient and productive. If not, you could lose out on business opportunities due to bad customer service. When times get busy and you don't have enough employees to handle the workload, hiring temp workers is a great idea.
Temp staffing benefits companies with flexibility, reduced costs, higher morale, and increased productivity. But managing fluctuating temp staffing needs can be a hassle. It can be time consuming and costly to be constantly recruiting and hiring temp workers who will only be around for a short time.
When your temp staffing needs fluctuate often, manage them more efficiently by partnering with a temporary staffing agency. Doing so will improve the value of your investment.
Take Advantage of Recruiters' Expertise and Experience
You might be a great boss and can flawlessly manage and grow your company, but you might not be an expert in hiring. That's totally understandable. However, if you want to have the best temp workers on your team, having access to hiring experience and expertise can make a big difference in the quality of the candidates you receive. The recruiters that you'll get on your side if you partner with a temp staffing firm will know where to find qualified workers for your varied roles, how to interview, vet, and test them appropriately to ensure that their skills meet your needs, and how to find temps who will be a good match to your company. You'll get to benefit from the resources, time, and experience that these recruiters have that make them able to find top talent.
Have More Time to Focus on Your Core Business
Managing a temporary workforce takes a lot of time. Onboarding, training, payments, paperwork—managing these tasks on a regular basis for a constant stream of new temp workers can be time consuming and it can take you away from your more important responsibilities. Your temp staffing firm can handle all of these tasks for you. You'll get all of the temp workers you need when you need them, but you won't have to deal with any of the arduous and tedious administrative work that comes along with it. It's a win-win, really.
Save Money
You know that taking advantage of the flexible workforce can have positive effects on your bottom line. It can reduce your administrative and overhead costs, your fixed payment costs, and the need to pay costly overtime. Unfortunately, though, if you're wasting money on the recruiting and hiring process in-house, the money you save from using temp workers will be negated—you won't get the most value from your investment. But when you partner with a temp staffing firm, you'll eliminate the costs associated with managing the hiring process in-house. You won't have to pay for the cost of background checks, advertising, skill testing, or even training. You'll pay a transparent and manageable fee to the staffing agency, and that's it.
To effectively manage fluctuating temp staffing needs, partner with a staffing agency. Make sure to choose a reputable and reliable agency that works within your niche for best results.