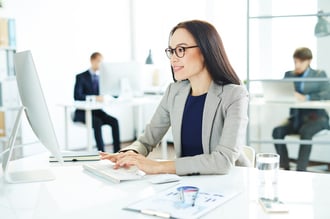 The job of the administrative assistant is certainly not glamorous. It basically consists of filing, typing, scheduling and coordinating meetings and appointments, arranging travel, managing correspondence, and answering phones. Admin assistants are often overlooked in the office.
But make no mistake: their work is important in business. You could say these important employees are unsung heroes. The successful and efficient completion of their duties allow their offices to run smoothly and allow the high-level managerial staff to focus on their strategic priorities instead of paperwork.
People depend and rely on their offices' admin assistants. If they're unqualified for the work and make errors, havoc can ensue. Important meetings can be missed. Travel plans can be forgotten. Critical mailings could get lost. Valuable phone calls can be left unanswered. A lot of time can be wasted. And customer service can dip. When admin assistants aren't good at their jobs, everyone suffers and everyone looks bad because of it.
When it comes to such an important role to fill, you shouldn't leave anything to chance. Instead, you should use staffing services to find your new qualified administrative assistants. Here's why.
Hiring the Most Qualified Candidates
Admin assistants do not require extensive education, experience, or specialized skills to do their work effectively. However, they do require a set of soft skills, including problem-solving skills, interpersonal skills, and communication skills as well as computer skills, project management skills, and organizational skills.
Unfortunately, it's very easy for candidates to put these qualifications on their resumes, and very difficult for hiring managers to verify them.
Engaging a staffing company can provide you with the hiring expertise and experience required to be able to effectively weed out the unqualified and spot the gems. Its recruiters will know what interview questions to ask and what responses to look for in order to verify these types of skills. A staffing company will also offer skills testing on candidates as part of its range of staffing services.
Save Time
In addition, because minimal previous experience or education is required to become an administrative assistant in certain instances, you are going to be inundated with resumes from hundreds of people, many of which won't be qualified for the job. You'll have to spend considerable time reviewing resumes and performing interviews.
A staffing services company, however, can do all of this work for you. The legwork will be handled expertly, and you'll still get to make the final decision.
Speedy Hiring
During the weeks or even months that you spend on the in-house hiring process, your office will suffer the consequences of having open positions left unfilled. This can reduce productivity, hurt your customer service level, and put undue pressure on your other employees.
With staffing services, you can enjoy speedy hiring. A niche staffing firm in particular, one that specializes in administrative placements, will have a wide network of qualified admin assistants to call on, who are ready and able to start working right away, for your convenience.
Temp-to-Perm Hiring
As we mentioned above, hiring the wrong administrative assistant can be detrimental to your workflow. It can lead to costly mistakes and other consequences. An easy way to reduce the risk of hiring is to use the temp-to-perm hiring model.
Using this approach, you'd hire a new administrative assistant for a predetermined amount of time—say three months. During these months, you'll be able to test out your new assistant in action, to see how well he fits in within your work environment, to see if his skills match up to his resume, and to see if he is truly an asset to your company. If he is, you can hire him, knowing that he's a great worker. If he's not, you can send him back to the staffing services company for a replacement, with zero commitment.
Contact Liberty Staffing to find a qualified administrative assistant today.