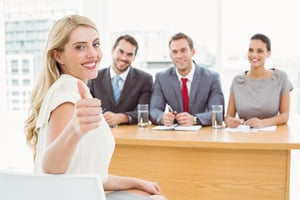 As a business owner, you're always on the search for new ways to improve productivity and streamline operations. The key to keeping business operations running smoothly is hiring the right people, and having optimal staffing levels.
Your business is flexible, however, and faces ups and downs. To that end, you're looking at ways to create a more flexible workforce. One of the best steps you can take is to hire some temporary employees for your business.
For many business owners, that's easier said than done. Hiring temporary workers for the first time can seem a bit intimidating. With this guide, you can make it as easy as one, two, three.
Work with a Staffing Agency to Hire Temporary Employees
The first step you take should is to find a staffing agency you trust and want to work with.
While you can hire temporary employees on your own, it's often a better idea to work with a staffing agency like Liberty Staffing Services. Our recruiters are experts in temporary and flexible staffing, and we can guide you through employment contracts.
Our expertise will help you hire the right workers, with the skills and experience you need to optimize your workforce, and reap the benefits of flexible employees.
Create a Job Posting and Interview Candidates
Create a job posting for the temporary position. You may work with the staffing agency during this stage as well.
Review applications, and select those that meet your criteria. Conduct interviews and screening tests exactly as you would for a permanent employee. Even though these workers may only be with you for a predetermined amount of time, it's still imperative to make sure you have the right people in the role.
You want to be sure each worker you hire is a good cultural fit for your business. Again, Liberty Staffing can help you by screening candidates, and/or conducting initial interviews, to help save you time.
Consider Temporary to Permanent Staffing
Another reason it's important to find people who are the right "fit" for your business is that you may want to keep some of your temporary workers on staff once their contracts have ended.
Hiring temporary to permanent is a situation most employers consider at one point or another. This allows you to hire an employee on a temporary basis, with the possibility of turning their employment into a permanent position.
This can help if you anticipate the need to expand your production or staffing levels more permanently in the near future. It's also a good choice for businesses that experience high turnover.
Get Started with Temporary Staffing
If you've been thinking about hiring temporary workers, get in touch with the experts at Liberty Staffing Services. Hiring temporary workers has never been so easy.