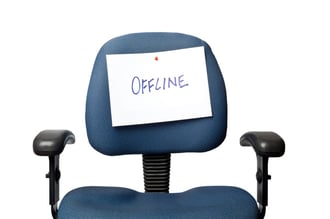 No matter how effective your HR department is, it's inevitable that you're going to have to deal with staffing issues every once in a while. Unexpected problems occur—you can't completely control your workforce, no matter how much you try.
Staffing issues can include lack of cash flow to pay for fixed payroll costs or increasing costs of offering benefits, or unexpected workforce shortages due to sickness, leave, or termination. You might also face a skills gap, have unexpected influxes of work but too few workers, or have a high turnover rate and high training costs. At one point or another, you'll face some, if not all of these staffing issues. But you don't have to just accept them as a part of doing business. You can be proactive in eliminating these issues from your company. The solution is to partner with a temp staffing agency.
Though temp staffing agencies get a bad rap due to persistent myths, partnering with one can solve your staffing issues and help you build and maintain an exceptional workforce that can allow you to achieve your business goals.
Here's how you'll benefit from investing in a temp staffing agency.
No Fixed Payroll Costs
If adding more payroll and benefits costs by hiring more employees is an issue for your company, then hiring temp workers is the ideal solution. When you hire through a staffing firm, the agency will take care of these expenses, paying the workers for you. Not only will this ease your administrative burden, but it will allow you to hire based on your cash flow needs.
Reduce Turnover and Training Costs
Turnover is terrible for business. If you keep hiring employees who don't work out, either because they leave of their own accord after realizing the job isn't right for them or because they need to be terminated, your hiring process is lacking. You're not finding the best candidates for your open positions. This can lead to reduced productivity, higher training costs, and higher hiring and recruitment costs.
You can reduce your turnover, and in turn, the costly consequences associated with it, by working with a staffing agency. The agency recruiters are skilled at finding the right candidates for any job. They have the means and the time required to locate top talent. They have the interview skills needed to weed out the mediocre, and they have the expertise needed to ask the right questions and consider the right factors for hiring to ensure that you only hire people who will stay with your company for the long term.
Fill Short-Term Gaps
One of the most common staffing issues you likely face is short-term gaps in your workforce. When your employees call in sick, go on leave, have an unexpected emergency, or leave without notice, you're left without enough workers. Your productivity suffers, and your customer service might suffer too.
A staffing agency can quickly fill those gaps with temp workers. You'll get the workers you need, when you need them, for as long as you need them. If you need someone to fill in for a few hours, for a day, or for several months while an employee is out for whatever reason, your staffing agency will deliver.
Bridge the Skills Gap
Many employers face a skills gap. When they have special projects that need to be completed but they don't have the skills they need in house, they're often stuck. They can train an existing employee, but this could end up being too costly and time consuming. They could hire a new worker on their own, but the project might not require a permanent hire. A staffing firm can help by finding you a temporary worker with the right skills and experience to get the job done effectively and efficiently.