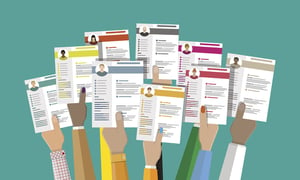 General labour is one of those positions almost every company needs to hire for at one point or another. Whether you want someone to perform upkeep around the office or to take care of small tasks, hiring a General Labourer might be the way to go.
This can be a very difficult position to hire for, in part because it can be so versatile. What one company defines as general labour isn't what another sees it as. This can create confusion in the job market, as different job descriptions outline different roles and responsibilities, all grouped under the same label.
If your job description isn't specific enough, you might find you're receiving many applications but still not finding the right candidates.
Writing a better job description will help you attract more of the right candidates. How should you write your descriptions for General Labourer roles in your company? These tips might help.
Defining General Labour
The first thing you need to do is define what you mean when you use the general labour term. As mentioned, each company will have a slightly different understanding of what a General Labourer does.
This is because the role can be so versatile. You may notice your description changes slightly each time you need to post for this role because you need someone to take care of slightly different tasks each time.
Think about the responsibilities the General Labourer will have in your company. Will they be painting the walls, or will they be looking after general maintenance tasks around your office or warehouse?
Once you've determined what you need, you can begin to write the job description.
Use Keywords and Phrases
Another important part of writing a good job description for almost any role in your company is using the right keywords and phrases.
If you use an applicant tracking system, the software can help you sort through applications based on the appearance of certain words and phrases.
Candidates might also be searching based on these phrases. While "general labour" is probably an important keyword to include, you will also want to include specific skills or tasks you're hoping to hire for.
Outline the Ideal Candidate
You'll probably include some requirements with your job description when you post it, so go ahead and think about what your ideal candidate looks like.
What skills do they have? How much experience have they acquired? What kind of educational background do they need for this role?
Don't forget about the soft skills either. Someone with problem solving skills is equally as valuable in the General Labourer role as any other position in your company.
Once you know what the ideal candidate looks like, review the job description. Does it accurately reflect the candidate you're looking for? Will your ideal candidate look at this description and be ready to hit the "apply" button?
Be Clear and Concise
Some employers and hiring managers make the mistake of writing vague job descriptions. This is especially true for general labour because the tasks and responsibilities of the job can vary so much.
You may think a vague job description gives you flexibility. When you're hoping to hire, however, this strategy can backfire. Since the description is vague, it may not accurately reflect your ideal candidate. As a result, you'll receive many different applications, but few from the right candidates.
Job descriptions should be clear and concise, especially for roles like general labour. A few lines outlining the specifics will help you find the right candidates every time.
With these tips in mind, you can write a better job description for General Labourers or almost any other role you need to hire for.
Better yet, partner with Liberty Staffing Services for your hiring needs, and we can work with you to write an accurate and compelling job description for your open positions.