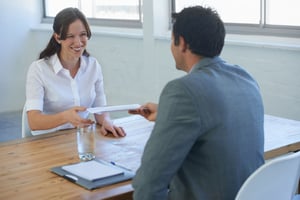 You can never do too much research when approaching new job opportunities, and temporary to permanent employment is no exception. While this type of work arrangement can potentially lead to a long lasting career, evaluating your temporary work goals is never a bad idea. Just as your employer considers how well you fit into their company, so should you consider how well you fit the position and enjoy the work.
Here are three significant questions you should be asking yourself if you want to determine if temporary to permanent employment is the right choice for you. After answering the questions, you should be able to evaluate how well a temporary to permanent position suits your work goals.
What's Your Current Work Status?
Are you an up-and-coming graduate or have you recently graduated and aren't sure of your career path? Maybe you're still in school and you just need a couple employment opportunities for some extra cash. Perhaps you're already working and want to make a career change. Whatever the case may be, you should evaluate your current work status, and ask yourself whether it calls for temporary to permanent employment.
Temporary to permanent positions are ideal for those who aren't sure what career path they want, as well as those who want to prepare for a full time permanent position. Since you aren't guaranteed a permanent position by the end of your placement, a temporary to permanent arrangement allows you to have an extended training period.
What Kind of Work Do You Want?
Canada's gig economy is advantageous to both workers and employers. If you're a student who wants to boost their savings, then seasonal positions are probably your best bet. If you're a recent grad, or someone who wants to ensure they land a permanent job that they're a good fit for, then a temporary to permanent position might be a better option for you.
During your temporary placement, you can fully evaluate the job opportunity your position offers you. Temporary to permanent positions give you a gauge for what different industries and their work environments are like from day to day.
Think about how a temporary to permanent position could help you achieve your work or career goals. Such positions offer the opportunity to test drive career paths and expand your professional network as well. Even if you don't get offered a permanent role, your employer could refer you to other companies that you might be better suited for.
What are Your Skills and Experience?
Let's say you've answered the first two questions and decided that you would like to try temporary to permanent employment. The last question you should always pose to yourself is whether you have relevant skills and experience for the kinds of temporary to permanent positions available. One of the quickest ways to have your resume rejected is to make the mistake of applying to positions for which you're unqualified.
Make sure you take stock of what hard skills and soft skills you have, as well as what temporary to permanent positions are available in your area. If you're unsure of how to locate temporary to permanent opportunities that fit your goals and skills, you should engage a staffing agency, like Liberty Staffing. Our recruiters are experts with hidden networks of various local job opportunities. They can even help you evaluate your skillsets and experience when you apply.
Temporary to permanent employment could very well be right for you, but as with any job opportunity, it's best to consider your options before jumping in!