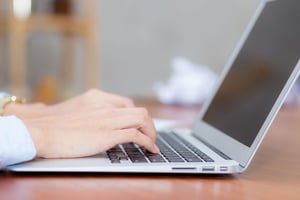 Have you been applying to jobs for the summer but not having much luck? Perhaps you've left your job search until now. After all, school kept you busy up until the very last minute with essays and exams. Now that you're finally free, you can focus on the job search. With all the buzz about getting started early, however, you might wonder if you've missed out on the best opportunities of the summer.
Although many people will tell you to start the job search early, rest assured it's not too late to find a summer job. Many companies in a variety of different industries will have openings available almost all summer long. Of course, it's in your best interests to find employment sooner rather than later. Temporary work can help you fill in gaps in your employment.
What is Temporary Work?
Temporary work is precisely what it sounds like. It's work that is temporary in nature. This can mean the job spans a few weeks or a few months. It usually comes with set terms, such as a concrete start and end dates. The employment agreement may have clauses in it that allow the employer to extend the role if required.
Many different companies in different industries hire temporary employees, especially during the summertime. The reason is temporary workers provide much needed labour while filling employment gaps. Some employers have a busy season during the summer. Others may need to cover vacations and other leaves. Temporary workers provide a great solution for these employers.
Why Should You Apply?
There are some myths about temporary work, which you may hear repeated on a frequent basis. One is that you shouldn't apply for temporary positions because they'll look bad on your resume and harm your chances of landing a permanent position later on.
This isn't true. Work experience is always better than no work experience, no matter if it's temporary, contract, or permanent in nature. Applying to temporary roles with companies provides you with many advantages.
An important advantage is earning wages. If you're concerned about paying tuition, rent, or student loans, this is important. The next thing temporary work provides is experience. It also allows you to fill in any gaps on your resume. You can also try out several different roles and industries to discover more about your talents and passions.
How to Apply
Now that you understand why temporary work can be advantageous to you, the next thing you need to know is how to apply. You can take your job search online to major job search sites such as LinkedIn.
You should also consider working with a staffing agency, like Liberty Staffing. Many temporary positions don't make it to job search sites. They're the exclusive domain of the staffing agency the employer has chosen to work with.
Working with a staffing agency also benefits you. They can help you discover new roles and industries to apply to. In addition, they can help you spruce up your resume and practice your interview skills.
What are You Waiting For?
Now that you know why temporary work is advantageous for you and how to apply, what are you waiting for? While it's not too late to apply for summer jobs and land a position, you'll want to find a position sooner rather than later.
Get started by contacting Liberty Staffing today! Our recruiters can help you get started on your job search. You can find your next summer role or your first summer role today.