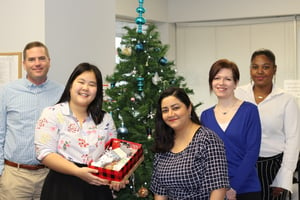 Each year around the holiday season, Liberty Staffing's Guelph, Ontario team does something community-focused, to help local people in need. This year, our Guelph team donated to the Shoebox Project for Women. The Shoebox Project collects and distributes shoeboxes filled with gifts for women impacted by homelessness in the community.
Liberty Staffing Services is an independent staffing agency that first opened in Guelph in 2001. We help job seekers find employment, and provide flexible staffing solutions to local businesses. The nature of our business is helping others. We love being able to help people, and it comes as no surprise that our Guelph branch would take the initiative to participate in the Shoebox Project.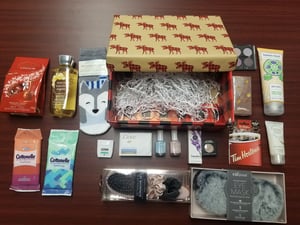 Thank you to our Guelph team for donating to this great organization (pictured left to right): Nick, Courtney, Nava, Lorna, and Janielle.
Here are some facts about homelessness in Guelph, provided by the Shoebox Project.
Homelessness in Guelph
- 7% unemployment rate
- There are 1,200 people on the affordable housing wait list in Guelph, as of 2012
- Families that earn minimum range spend 50% of their income on rent for a 2 or 3 bedroom apartment
How to Help
While the Holiday Drive for Guelph-Wellington is now closed, you can always make a shoebox donation to the organization in future, or volunteer your time. Check out the Shoebox Project's website at: www.shoeboxproject.com, and see how you can help.
Apply with Liberty Staffing
Know someone in need of employment? Refer them to register with Liberty Staffing Services. We offer general labour, warehouse, and office positions in temporary, temporary to permanent, and permanent opportunities.
Gaining a job through Liberty Staffing means earning money to help pay the bills. Liberty Staffing pays on a weekly basis, by cheque or direct deposit. We will work with your availability. This is no fee to use our services as a job seeker.
We love being able to find candidates meaningful employment. Contact us at (519) 823-9697 to get started with our online application, and then come in for an interview with us.
Liberty Staffing is located at:
214 Speedvale Avenue West, Unit 4
Guelph, Ontario
N1H 1C4
We connect great people with great jobs!