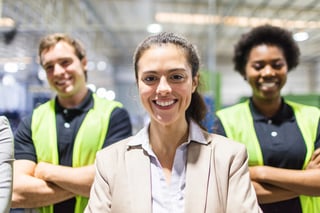 It's the most wonderful time of year! Unless you're a hiring manager, of course. For you, the arrival of fall signals the start of peak hiring season. No matter which industry you're in, you'll likely see an upswing in business during the stretch from October to the holidays in December.
You'll need all hands on deck if you're going to keep pace with demand. If you're preparing for the holiday rush, you should give yourself a helping hand by teaming up with the experts at a temp staffing agency.
Why Work with an Agency?
Some people hesitate when they hear the word, but most hiring managers know an agency can be their best friend. This is especially true when you're in the middle of peak hiring season.
You need to get people onboarded quickly. Your temps have to hit the ground running. Your hiring process has to speed up. You can't spend weeks looking for the perfect candidate.
The temp staffing agency is your best option for avoiding these types of hiring problems. Recruiters have the resources and expertise you need.
A Ready Pool of Candidates
At this time of year, you don't have time to spend collecting resumes, sifting through them, and then deciding on which candidates to interview in hopes of finding a good fit. Hiring is a labour-intensive process that often takes a fair deal of time. You need to speed up.
The temp staffing agency has a ready pool of candidates on file. Recruiters can sift through their candidates to find the people who match your criteria in short order. They'll forward you the applications of those job seekers who fit your profile.
You get better candidates sooner when you work with an agency.
Filling Multiple Positions
It sometimes takes a long time to find even one good candidate, even when you spread a wide net and take your time. What happens when you need to fill several temporary positions quickly?
Some hiring managers might make the mistake of hiring every candidate who has applied, just to get bodies into positions. This strategy often backfires since it can lead to hiring mistakes.
The temp agency has a better chance of filling multiple positions with your company quickly and with good candidates. Once again, they can filter through their pool of candidates to find the strongest matches quickly.
The Best Strategy
The expert team at the temp staffing agency also uses the best technology and techniques to find additional candidates if you need them. They'll cast a wide net, yet target your search to reach the right people. They can even pre-screen candidates for you.
Partnering with a temp staffing agency to fill multiple temporary positions for the holiday rush is one of the best strategies a hiring manager can employ. Make this the most wonderful time of year by making your holiday staffing easy.