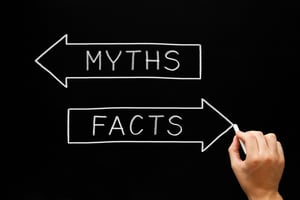 Sometimes staffing agencies have it tough – there are many job seekers out there who don't understand what staffing agencies do and how they work. This can cause misunderstanding and confusion. There are many common misconceptions out there regarding staffing agencies. If you're hesitant to apply to a staffing agency because of these misconceptions, Liberty Staffing would like to help separate myth from fact. Here are some common misconceptions about staffing agencies.
1. Agencies Don't Care about Employees
One common misconception that's said a lot about agencies is that they don't care about their assignment employees. This is not the case. Liberty Staffing is an independently-operated business. We take the time to get to know every candidate that walks through our doors. Not only is it in our best interest to get to know you, but we genuinely love getting to know our employees on a personal level. The more we know about you, the better we can place you in the right position. At Liberty Staffing Services, our main priority is to find the perfect job for you. We want you to obtain a lasting career with us.
2. Only Offer Temp Work
Liberty Staffing offers temporary, temporary to permanent, and permanent work to job seekers. While we do have a lot of temporary work available, we also have permanent opportunities. Whether you're looking for a temporary or permanent opportunity, we will work with your needs and requirements to find the perfect fit for you.
3. There's a Cost to Job Seekers
Is there a fee to register with a staffing agency? This is a question that we get asked a lot. There is absolutely no fee to use Liberty Staffing Services as a job seeker. Reputable agencies will not charge you a fee to use their services. We do not charge you a fee to register, nor do we take a cut from your paycheque.
Staffing agencies are profitable by charging an additional fee to the company looking to hire, which in no way affects what the company will be paying you.
4. Only Have Jobs with Low Wages
Pay rates are dependent on the job opportunity (specifically the responsibilities, and skills needed in order to perform the job successfully). Our jobs start at the base level of minimum wage ($11.40/hour) and go up from there. Let us know what pay rate you're looking for during the interview process, and we will offer you positions in that range.
5. Strenuous General Labour Jobs
While many agencies only provide general labour positions, Liberty Staffing offers office, warehouse, industrial, as well as general labour jobs. Our general labour positions vary from light, moderate, to heavy lifting. Let us know what you're comfortable lifting, and we will work with your requirements. Your safety is our number one priority.
We hope this blog has helped clear up any questions that you had about staffing agencies. Apply to Liberty Staffing today! Contact us to get started.