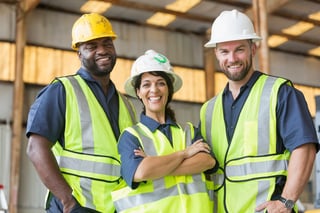 General labourers are used in a wide variety of businesses, and you may have heard other business owners talking about hiring them. What are these workers responsible for, and does your company need them? Here's what you need to know.
What General Labourers Do
General labourers can perform many different tasks. This work is generally physical in nature. At some companies, they may perform specific jobs, while at others, they may fill in wherever they're needed. This means their specific duties can vary significantly.
These workers may perform tasks like cleaning job sites, unloading and loading trucks, or repairing scaffolding. They may work with machinery like blowtorches or forklifts. They may wax or mop floors in businesses. These are just some of the possible tasks general labourers could perform.
While this type of work may seem easy from the outside, that's far from the case. To succeed, people in these roles need to be physically fit. They need to safely lift heavy objects, or operate machinery.
Types of Companies That Need Them
Many types of companies can benefit from hiring these workers. Companies in physically demanding industries, like manufacturing, often need people with this skill set. Farms, fields, warehouses, and shops could also need these workers. Any other type of company that has a need for physically demanding labour could benefit from these workers, too.
If your business is office-based, you may think you don't have any need for labourers. While you're probably not building anything, you could still need manual labourers for various tasks. For example, you might need someone to paint your office, clean your windows, or mop your floors. Perhaps you need some help rearranging the furniture in your office. All these types of tasks fall under the umbrella of manual labour.
How to Find the Right Employees
If you've decided your business could benefit from hiring general labourers, you may not know how to hire them. This isn't a job that just anyone can do. Like any other job, it requires a certain mix of skills and experience.
Typically, people in this field should be physically fit, dependable, and open to performing varied physical tasks. They also need to be safety conscious to avoid injuring themselves or their coworkers during the course of a work day. In addition, they need to be willing to be trained on more specialized tasks. It can be hard to find people with the right skills, especially if your company has no experience hiring manual labourers.
So, how can you hire good workers?
The easiest way to find the qualified workers you need is to partner with a staffing agency. Since these agencies are experts in hiring, they know how to find the best general labourers. They pre-screen and pre-approve their labourers. When you need to hire these workers, you can simply receive a list of qualified candidates. This makes your job much easier.
Many types of businesses can benefit from hiring manual labourers. If you have any physically demanding tasks that need to be completed, consider bringing on skilled general labourers. Since this isn't a type of hiring you're used to, partner with a staffing agency to ensure you hire the right people for your business.