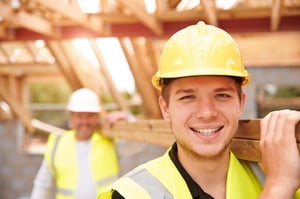 You might think that finding general labourers would be an easy task. After all, they don't need any specific education or experience, so it should be a breeze to find workers to fill these hiring needs.
However, there is a difference between finding qualified workers and finding anyone to fill your needs. Even though your general labourers might not require extensive certifications or diplomas, they still need to be able to do their work efficiently, effectively, and safely. Hire the wrong worker and you could increase your risk of accidents and on-site injuries, reduce your productivity, and damage your customer service level.
Hiring the right workers, in a timely manner, is critical. And staffing services can help. Here's how.
Speedy Hiring
Oftentimes, you're going to need to hire qualified workers for general labour quickly. Demand could suddenly increase and you could need more hands on deck immediately to meet that demand. You won't have time to write job descriptions, post advertisements, wait weeks for candidates to apply, review resumes, and conduct interviews.
A staffing services company can get you general labourers on site quicker than you could get on your own. Choose to partner with a niche staffing firm that specializes in placements for general labour and you'll benefit from a long list of qualified candidates that are already pre-screened and pre-approved. You'll be able to get your extra workers on site in a matter of days, if not hours, so your productivity won't have to suffer while you go through the motions of your in-house hiring process.
Higher-Quality Candidates
Staffing services companies are experts in hiring. And if they specialize in general labour, then they understand exactly what skills and experience you might need in your new workers and what responsibilities and roles the workers will be handling. These companies have repeatable and successful hiring processes for hiring general labourers, so they'll ensure that you only onboard quality workers who will be assets to your company. They'll know how to identify great workers and how to weed out the bad. So you don't have to deal with the consequences of bad hiring decisions.
Safety
General labour can be dangerous. Workers must do heavy lifting, work in tough environmental conditions, and sometimes use heavy-duty machinery and equipment. If your new workers aren't safety conscious, they could get hurt on the job, damage your property, or cause serious injuries to others. These are risks that you just can't take.
A staffing services company will handle health and safety orientation and training to ensure that your new workers understand how to work safely in your unique environment. This will considerably reduce your risks. In addition, if you're hiring temp workers, then the staffing firm will be the workers' legal employer and will share some of the liability and risk.
Save Time and Money
Regardless of which industrial sector you work in, competition is fierce. You need to be lean and efficient in order to stay competitive. A staffing services firm will be able to help you save on time, resources, and costs. It will handle all of the expenses of hiring, including advertising, drug testing, and training. It will also handle all of the time-consuming legwork associated with recruiting and hiring as well as payroll and HR administration.
If you need to hire qualified workers for general labour, contact the experts at Liberty Staffing. Liberty Staffing is a leading placement agency for industrial workers and general labourers. You'll benefit from faster hiring, high-quality candidates, increased safety, reduced costs and time savings, and much more. It pays to work with a staffing services company.