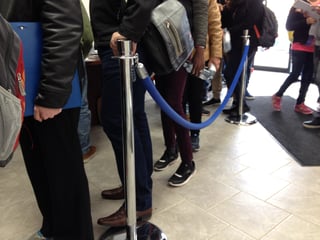 On Saturday, April 29th, we held a student job fair at our London, Ontario office. We had 200 job seekers come in and apply. What a great success!
Congratulations to our London, Ontario team! Big thanks to our team members for helping out during the job fair: Chrystyna, Ashley, Trish, Chelsey, Bethany, Ashley, Dominique, Michelle, Stephanie, Kelly, Kett, Lisa, and Kim.
Thank you to every candidate that came in to apply during our job fair! Your patience was greatly appreciated.
Liberty Staffing offers office, warehouse, and industrial jobs in temporary and permanent opportunities.
There are many great reasons to apply with us, including: weekly pay, direct deposit, job opportunities in your field, and $100 if you refer a friend.