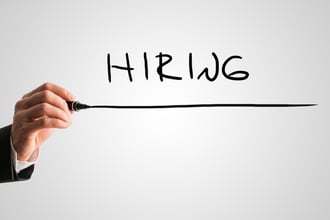 When you've been using the same hiring process for years, it's difficult to make changes. You're comfortable with the process. You might not have the time, knowledge, experience, or resources to make the right adjustments. But an outdated process won't do you any good. Things change in recruitment and hiring, and in business in general, and you have to keep up if you want your process to continue being effective. Since your employees are your biggest asset, your business depends on finding and hiring the best candidates.
Don't ignore hiring advice. You should be taking all of the hiring advice you can get, especially if your process is failing you or you're making a lot of mistakes.
Here's some hiring advice from experienced and skilled hiring managers that you need to consider taking so you can avoid making hiring mistakes.
Always Be Recruiting
We're sure you've heard this hiring advice before, but due to the time commitment, you haven't taken it. But the truth is you're probably not going to find the very best candidates within your one-week time period. You need to always be on the prowl for talent. No one can predict when an employee might give notice and there's absolutely no reason to be scrambling around at the last minute for a replacement. When you continuously accept new resumes, even when you don't have current open positions, you can give yourself the time you need to find the best, instead of settling for the mediocre.
Know Exactly What You Need
You might think you know exactly who you should hire, but if your hiring process has been failing you more often than not lately, it's very possible that you need to revisit this first step. When you're writing a job description, you have to think about more than just the tasks that need to be handled. You need to think about the skills that will be required for success and the personality traits that are necessary for your open position. You also need to understand and detail what results are expected, what responsibilities the person will have, and what authority might be expected from them. Don't only look for someone who can perform tasks—think more holistically.
Interview a Lot
In attempt to save time and effort, you might just hire the first person you interview. Even though you might not be interested in every candidate and can only hire one person, that doesn't mean you shouldn't put in the effort to interview everyone that is qualified for the job. Don't commit to the first interviewee, or you might miss out on someone even better. Resumes do not provide a full overview of the candidates, so give them a chance to shine in the interview.
Don't Avoid Checking References
For some unknown reason, many hiring managers ignore this hiring advice. They think they know all they need to know after interviewing a candidate. Unfortunately, though, people may embellish or lie or their resume. You don't want to end up dealing with the consequences of a bad hire because you couldn't take five minutes out of your schedule to call up a few past employers, do your due diligence, and check references.
Emphasize Culture
Cultural fit is known to be an incredible indicator of success within a company. Even if someone has all the right qualifications, they will not be committed, loyal, or hardworking if they do not believe in what they do or fit into the company's environment. Even if you don't notice it, you company has a unique culture. You need to understand your culture to be able to find candidates who match it. Only hire people who are in line with your values and vision. If not, you'll see a high turnover rate.