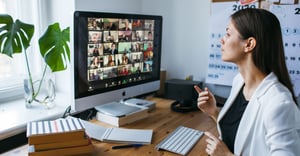 The last 12 months or so have seen a massive shift to remote work. Many employers have been forced to quickly implement remote work plans and policies. Many people have found themselves working from home.
Some experts have predicted that this shift can't be undone and remote work is here to stay. At the same time, we've also seen plenty of employers shifting back to in-person operations when the possibility is presented.
Download our whitepaper to see how we solve our clients' evolving staffing issues
That's left both employers and employees uncertain about the future of remote work. Here's our predictions for what you can expect next year.
Remote Work is Here to Stay…in Limited Capacity
Remote work is a great option for some roles and some employers. For others, it really isn't possible. What we're likely going to see is more hybrid teams, where some team members work remotely and others are on site.
We will likely see hybrid roles. People will work in a mostly remote position, but they'll be expected to be on-site for a certain amount of time. So, a remote worker might have to come to the office once a week or so.
It could also mean the on-site worker has the option to sometimes work remotely. Of course, this will depend on the position. A Picker or Packer in a warehouse can't do their job from home, because they don't have access to the items that need to be picked and packed! The same is true of a Brake Press Operator, and other factory workers.
Still, wherever it's possible, employers are likely to give the option of more flexibility to employees. This will help employers remain competitive in a tough market, and it will also improve employees' productivity and job satisfaction.
Everyone Uses Remote Work Tools
The shift to remote work tools, like video conferencing, has been another trend in 2020. As people shifted to remote work, they had to adopt tools to support it.
We'll likely see this trend continue, and adoption will happen across organizations. You'll likely end up using video conferencing tools and apps to chat with co-workers, whether you're on the factory floor or working from your home office.
As a result, every employee should stay up to date on popular technology.
Employers Will Expand Their Teams and Operations
Remote work also offers new possibilities to employers. Before, you had to hire someone who lived within a certain radius of the office, or help them move. With remote work, you can look beyond local talent, and find great candidates in other cities within Ontario.
Policies Will be Refined
Finally, employers and employees alike can expect a fine-tuning of remote work policies. Many employers scrambled to get policies in place. As a result, these rules may not be clear, or they might be in conflict with best practices.
Employers will most definitely be examining their policies as they move forward. If remote work is here to stay, even for part of the team and part of the time, you want to be sure you're supporting them the right way. Better policies can help you give them the guidance they need.
Hire Remotely with the Right Help
Thinking about hiring a remote worker or two? Liberty Staffing can help you find the perfect candidate. Get in touch with our expert team today and discover just how simple finding the right candidates can be!