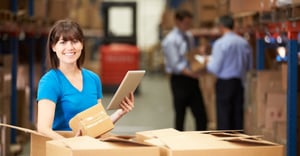 Are you a student headed home for the holidays? Maybe you're someone who wants to make a little extra money this holiday season. Whichever, you're thinking about picking up a job this holiday season.
Looking for a job? Let Liberty Staffing connect you to the jobs you want. Apply today!
You have just one question. Which jobs are Ontario employers actually hiring for this season? We crunched the numbers to find the most in-demand roles.
Customer Service Representatives Top the List of In-Demand Holiday Jobs
Customer Service Representative is actually one of the most in-demand jobs in all of Canada this year, so it only makes sense that this job kicks off the list of in-demand holiday positions.
The holiday season is often the busiest time of year for the retail industry, so employers in this sector need more people on staff to handle increasing demand. CSRs help customers find the products they want, troubleshoot problems, and check them out with their purchases.
Not all CSRs work in a store environment, and you may find employers looking for team members to deliver customer support online or over the phone.
Order Pickers and Packers Work Behind the Scenes
When it comes to holiday jobs, most people think "busy retail store." They often forget the behind the scenes work that keeps store shelves stocked and customer orders filled.
Almost any warehouse operation will be looking to expand its team for the holiday season. Orders usually pick up during the holidays, which means there's more to pick and pack in the warehouse.
Order Pickers locate products in the warehouse using an RF scanner, and pull them from shelves. Order Packers put the orders together and get them ready for shipping. In some environments, one person may do both the picking and the packing of orders.
Shippers/Receivers Coordinate Special Deliveries
Another warehouse role that's in demand during the holidays is Shipper/Receiver. Receivers look after shipments arriving at a store or warehouse, while Shippers coordinate shipments to other stores, warehouses, or customers.
As you can imagine, both shipping and receiving experience an uptick during the holiday season. Couple that with people taking time off, and you have a situation that requires employers to make sure they have enough hands on deck.
Shippers and Receivers might be separate people, or both functions might be fulfilled by the same person. The roles may require more experience than other warehouse jobs, especially since they can involve a larger degree of management and coordination.
Employers Must Fill Logistics Roles
All those extra shipments and deliveries also affect another set of roles in many businesses: logistics and supply chain management roles.
Inventory Managers and Clerks may be needed to keep track of stock, reordering, and other tasks. Supply Chain Managers will look to ensure there are enough supplies, such as boxes for shipping all those extra orders.
Even transportation can see increased demand. Couriers and Drivers may be needed for any number of companies who need to ship.
Electronics Manufacturers Seek Assistance
Ontario's manufacturing industry is thriving. Electronics manufacturers are some of the leading employers in this sector right now.
While they've been growing all year, electronics manufacturers are particularly busy during the holiday season. After toys, electronics such as computers, game consoles, and others are the most popular gift category. As people buy more of these items, manufacturers must make sure there are enough on the shelves to meet demand.
That means more parts manufacturing and more orders for Ontario's electronics employers.
Consider other electronics jobs, such as technical support or repair services. As people receive new electronics as gifts, they might need your assistance in installing devices or troubleshooting something that appears to be broken out of the box.
Any of these jobs could be a good fit for you. Get in touch with Liberty Staffing Services today and discover a great job for the holiday season.