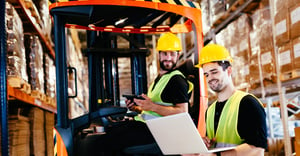 Warehousing is an essential part of many different businesses, in many different industries. Despite that, relatively few people think of warehouses as a great employment opportunity.
If you're looking for a job though, a warehouse position might be exactly what you're looking for. Take a look at these six different roles. They're perfect for someone looking for their very first warehouse job.
1. Warehouses Hire General Labourers
Almost every business has a need for general labour, and a warehouse is no exception. If you're looking for a truly entry level position to get your foot in the door, becoming a General Labourer might be a great idea.
General Labourers are often called on to fulfill a wide variety of tasks. You could be engaged in general maintenance and upkeep of the warehouse, or you may be asked to help with tasks such as moving shipments, or organizing shelves.
This position is a great way to discover the ins and outs of warehouse operations.
2. Pickers and Packers of All Sorts are Needed
Warehouses need people to pick and pack orders. These positions come with a variety of job titles, which may include Order Picker, Shipment Packer, or Package Handler.
Your responsibilities may extend beyond simply picking and packing orders. You may also be required to help with inventory, and the organization of the warehouse. You could be called on to review paperwork, and ensure what you've picked and packed matches what's on the order form.
You might be assigned to perform some quality control, and record damages and file the paperwork on them.
3. Warehouse Clerks Look at Service Standards
Another type of warehouse role you might be interested in is the Warehouse Clerk. The Warehouse Clerk's responsibilities can be wide ranging, and they may vary within the warehouse you're working in.
You may be responsible for some data entry, as well as reviewing and ensuring service standards are upheld. Administration duties can crop up on the job listing as well.
4. Shipper/Receivers and Warehouse Associates Keep Parcels Moving
One of the most important roles in any warehouse setting is that of the Shipper/Receiver. This worker sends shipments out, and receives incoming shipments. They're responsible for reviewing received shipments, and ensuring everything that was ordered was received. They may need to note and report damages.
They're also responsible for sending out shipments. Generally, they'll review orders, and organize the flow of shipments on the dock. They may also have administrative duties.
Some warehouses will employ Warehouse Associates, whose duties may include some shipping/receiving responsibilities as well.
Organizational skills, and a good understanding of logistics are important for these roles.
5. Warehouse Technicians are Concerned with Health and Safety
While Warehouse Technicians are responsible for a wide variety of tasks, one aspect of their job is ensuring health and safety. They provide support to others in the warehouse, and they also distribute information about health and safety programs.
They may also enforce safety standards, particularly with regard to how shipments are handled and stored.
6. Forklift and Equipment Operators
Warehouses use some specialized equipment, including tow motors, and forklifts. Some also use cherry pickers, and booms.
While you'll need specialized training to operate most of this machinery, if you have your licence, you'll find a world of opportunity available to you in warehouses across Canada.
Equipment operators often support other staff members in organizing the warehouse, counting inventory, and storing new shipments. They may also assist Pickers and Packers when certain items are ordered.
Find the Right Position for You
As you can see, there are many different warehouse positions to choose from. Many of them are excellent opportunities for someone looking for their first job.
If you think you might be a good fit for a warehousing position, reach out to Liberty Staffing today! We have lots of great warehouse positions available.