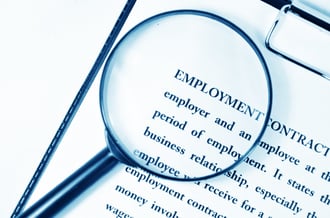 If you're currently looking for a job, your job search in 2016 might be a little different. For one, you might have noticed that a lot more employment opportunities are being offered on a contractual basis. With contract employment, you get hired for a fixed amount of time, which is stated upfront, such as three months, six months, or a year.
You might be wondering whether or not contract employment is the right route to take. There are many good reasons to take contract work as well as some drawbacks. Both are described below.
Pro: A Wealth of Opportunities
Contract employment is rising at a faster rate than permanent work in Canada. As such, it might be more difficult for you to find permanent job opportunities. If you don't open yourself up to contract work, you could be missing out on a wealth of great temporary opportunities that fit your interests, experience, and skills. Your job search can take longer than expected if you are solely looking for full-time, permanent job openings.
Pro: Temp-to-Perm Opportunities
Many temporary jobs turn into permanent opportunities. This is known as temp-to-perm employment. Companies can reduce their risk of hiring the wrong candidates by taking them on temporarily before committing to hiring them on permanently. They can test out their skills, see how they fit into the workplace, and see if they enjoy the work they're doing. You can turn your temp work into a permanent job if you impress your employer.
Pro: Testing Out Employers, Industries, and Jobs
Many job seekers face this somber situation: they get excited that they've been hired on full time, until they realize that they hate the job, their employer, or the industry they're in. By accepting contract employment, you can try out a sample of jobs and companies to find out what you really enjoy doing, what you're good at, and where you want to be in your future. You can get to know yourself better.
Pro: Gaining New Skills and Experience
Even if you take on many different contract jobs that are similar in nature, they'll all be different enough for you to gain new skills and experience. You'll learn how to use different machinery, equipment, or computer programs, you're bound to learn new skills, and you'll have plenty of experience to add to your resume. This will make finding a permanent job that much easier when you can impress hiring managers with your stellar resume.
Con: Social Exclusion
If you take on a contract position, you might find yourself becoming a loner. Your coworkers might not want to take the time to get to know you, invite you into their inner circle, or share information with you because they know you'll only be there for a short amount of time.
Con: Deductions
If you get hired independently as a contractor —without the help of a temp staffing agency—you'll be on the hook for taking care of your own taxes and deductions. You'll have to make sure you save enough money for tax time and you'll have to remit payments on your own, which can get complex.
Con: Lack of Security
One of the best parts of working as an employee is the job security involved. With contract employment, you are not protected under the Employment Standards Act. Your employment can be terminated at any time without cause or notice, which is risky. You won't be given severance pay at the end of your contract, either.
Con: No Entitlements
If you're not contracted out on a temp job through a staffing agency, then you're not going to be eligible for ordinary entitlements that permanent employees receive, such as vacation pay, holiday pay, or health and retirement benefits.