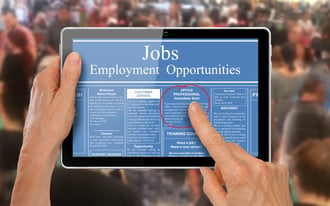 Temp staffing agencies match clients seeking workers with qualified candidates looking for work. They provide beneficial services to both clients and job seekers. However, many people looking for employment seem to be hesitant to apply to a temp staffing agency for help. They might have heard myths that have scared them away, which is quite unfortunate considering how advantageous it can be to work with them.
Here's why you should use temp staffing agencies to help you with your job search.
They Do All the Legwork
You no doubt already know how laborious and time intensive a job search can be. You spend hour after hour checking out online job boards and researching company websites. You write and rewrite cover letters to match job descriptions and send resume after resume to hiring managers without any response back.
The market is competitive; it's difficult to get the attention of hiring managers when they're drowning in a sea of qualified prospects to choose from. You could be working full-time hours for months on your job search and still end up unemployed. This isn't only scary financially, but it's also discouraging and frustrating.
What if we told you that you didn't need to do any of that work? What if you could spend your time on different activities instead, like taking an online course or focusing on your family? When you engage temp staffing agencies, this can be a reality. The agency representatives will do all of the legwork. They'll sift through open positions and try to find the best ones that match your qualifications. They'll talk you up to hiring managers. They'll find you work for free.
Support
Though your temp agency reps aren't career coaches, they'll still be there to offer career support when you need it. They can help answer employment questions. They can give you feedback on your cover letter and resume and make recommendations for improving them. They can suggest career paths that would be great for you. Some may even give you interview tips so you can impress hiring managers. And again, it's all provided free of charge.
Greater Access to Companies
If you've been on the job search for a while, you're probably sick of seeing the same mediocre job ads that don't really catch your attention. You might be wondering where all of the great positions within the best companies are hiding.
Many leading companies now exclusively use temp staffing agencies for their hiring needs, so you won't see their jobs advertised anywhere on the web. If you want access to these companies, you should work with the agencies they use. It's a way to get your foot in the door, which might be impossible to do on your own.
Improve Your Skills and Get Experience
Many job seekers roll their eyes at the thought of temp work, but it can actually be a great opportunity. It will allow you to improve your skills, gain new ones, and get experience with multiple companies that will look great on your resume. With a few temp jobs under your belt, you'll look even more attractive to those companies that you have your eye on.
Possibility for Permanent Work
Some temp staffing agencies hire for temp-to-perm positions. These are positions that are at first temporary but have the possibility of becoming permanent if you're right for the job. Companies often take advantage of temp-to-perm in order to try out new workers before hiring them on full time. If you work hard and impress your managers, you might be offered the job of your dreams.
Earn a Pay Cheque
Temp work can be a great bridge to permanent work. You don't have to sit around moping and struggling financially because you're unemployed. You can go out there and earn a pay cheque to tide you over until you find that perfect job you're looking for.