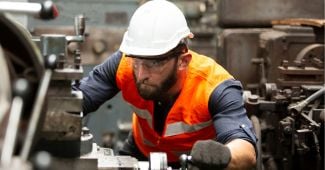 The manufacturing industry in Canada continues to be a great place to find meaningful work. Technology is changing the landscape of manufacturing, and these changes are exciting.
This is true for those who currently work in a factory and want to find their next opportunity in the industry, but it's also true for people who are just now considering a career in the field.
Liberty Staffing connects job seekers with great manufacturing jobs throughout Southern Ontario. Reach out to us to learn more about how we can connect you with one of these exciting positions.
Here are 7 exciting manufacturing jobs that you should know about while you are in the midst of your job search.
1. Robotics Technician
Robotics technicians play an important role in today's manufacturing facilities. Their responsibility is to maintain and repair industrial robots and automated systems.
The day-to-day duties of a robotics technician include coding, training robotics systems, performing preventative maintenance, testing new applications, and making sure all of the robotics in the facility are running smoothly.
You have to have a knowledge of robotics and mechanics, as well as computer programming. Most positions have a minimum education requirement of an associate's degree.
2. Quality Assurance Technician
Every facility needs to have a rigorous quality assurance testing system. That's where the QA tech team comes in.
Quality assurance technicians inspect products, parts, and systems at all stages of production to detect defects and ensure that the company's quality standards are met. These techs also use measurement tools and data to track quality metrics so they can identify areas for improvement.
QA technicians need to have great communication skills, attention to detail, experience with product or process testing, and data analysis skills.
3. Advanced Manufacturing Technician
As robotics and automation continue to change the industry, manufacturing companies will need to hire advanced manufacturing technicians who can operate these robots.
These important members of the manufacturing team operate CNC machines (computer numerically controlled), 3D printers, laser cutters, and other advanced equipment. These manufacturing professionals need specialized training to produce components and products via these machines effectively.
Your job would include performing test runs, calibrating machines, implementing safety procedures, and operating the machines.
4. Industrial Maintenance Technician
Manufacturing facilities have significant maintenance needs. In addition to the machinery itself, there are also power systems, HVAC systems, boilers, pumps, and more. Industrial maintenance technicians keep the plant running.
This is often a great position for someone who has worked in maintenance in other facilities, including warehouses.
To be hired into a role like this, you need to possess mechanical and electrical troubleshooting skills to diagnose problems and perform preventative maintenance on all systems in the facility. You will carry out installation, repair, and upgrade tasks on equipment.
Just like all the other jobs on this list, you have to adhere to strict safety regulations to be a good industrial maintenance tech.
5. Industrial Engineer and Industrial Engineer Technician
Technically, these are two jobs, but they are related to the same tasks.
An industrial engineer designs manufacturing systems, processes, layouts, plant flows, and productivity systems. An industrial engineer technician, on the other hand, assists the engineer so that these tasks can be completed.
For example, an engineering technician might collect and analyze production data and metrics related to production and performance. They will conduct time studies on factory tasks and propose changes that will make the workflow more efficient.
Engineering technicians contribute to the safety policies of a manufacturing plant, and they also ensure that government regulations are followed.
6. Supply Chain Technician
Thanks to the last several years, many of us already know about the impact that the supply chain has on just about everything. Interruptions and slow-downs in the supply chain can have a major effect on all of us.
Supply chain technicians must possess a strong understanding of the supply chain and how to make things run as smoothly as possible. They have to nimbly adapt to changes and interruptions.
These technicians coordinate multiple areas of the facility: production planning, inventory control, shipping and receiving, and logistics. They use ERP software to schedule work orders and maintain optimal stock levels. They also manage relationships with suppliers and track shipments.
Supply chain technicians keep production schedules on track, even as global circumstances change constantly.
7. Electronics Assembly Technician
An electronics assembly technician works on the production line for any factory that works with electronics. They may assemble, solder, inspect, test, troubleshoot, and repair electronic components, including circuit boards and complete electronic systems.
These individuals bring with them a knowledge of electronics, both digital and analog, and use testing equipment. They are excellent at following diagrams and production procedures.
These technicians are great with their hands and always perform their jobs with precision and technical accuracy.
Liberty Staffing Helps Job Seekers Find Great Manufacturing Jobs
The manufacturing industry continues to evolve and provide exciting career opportunities. At Liberty Staffing Services, we are excited to play a role in keeping our factories and manufacturing facilities running smoothly!
As factories implement more automation, robotics, and advanced technologies, there will be continued demand for skilled technicians in these areas.
If you're looking for one of these job opportunities and want to find out more about how you can build a career in manufacturing, reach out to us at Liberty Staffing today! We are the top staffing agency in Southern Ontario, and we are ready to help you find a great job.