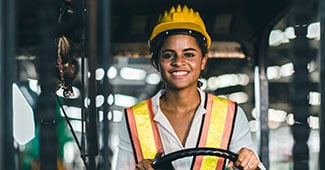 People often recommend warehouse work to job seekers, but sometimes that advice is a little vague. What do people mean by "warehouse work," and what options do you have if you decide that it's a good career for you?
If you're looking for warehouse work in Southern Ontario, Liberty Staffing can help you find a great position. Contact us today to get on board!
Understanding the various positions and opportunities available in the warehouse industry will help you figure out what your next step should be.
General Labourer
General labour is a great job for people who are brand new to warehouse work. These positions don't require specialized training. As long as you're good at picking up new skills and performing basic labour tasks, you are likely to qualify for these positions.
General labourers perform tasks assigned by their employer in a variety of settings throughout the warehouse. That includes maintenance, debris removal, janitorial services, cleaning services, lifting materials, using tools, and more.
Warehouse Associate
Similar to a general labourer, a warehouse associate performs general tasks for their supervisors. If you get a position as a warehouse associate, you will probably do things like picking and packing orders, loading shipments, and taking inventory. Sometimes, you will work alongside other positions, like receivers.
Warehouse associates can be entry level positions, or they can require some experience or training.
Forklift Operator
Forklift operators move shipments from one location to another within the warehouse. Shipment inventory needs to be moved from its delivery location to its appropriate storage space, and outgoing shipments must be transferred to the loading dock.
Forklift operators sometimes work alongside coworkers from other departments, such as receivers and warehouse associates. They may have to organize inventory or move items that are located on high shelves.
Unlike other jobs in the warehouse, forklift operators do require specialized training, and many forklift operators find it beneficial to get a forklift license.
Material Handler
A material handler assists with the processes of picking, packing, and inventory management. They need to be trained in how to operate a forklift, and most forklift operators view the transition to materials handler as a promotion. That is because materials handlers also drive other motor vehicles in the warehouse, such as cherry pickers, pallet trucks, and industrial lift trucks.
Materials handlers are expert pallet stackers, and they use both automatic and manual packaging machines in the course of their work.
Shipping & Receiving Specialist
These workers play an essential role in the warehouse. After gaining some warehouse experience, individuals can apply to shipping and receiving positions, where they pick orders, pack orders, and receive shipments.
If you want to go into warehousing management, this is a great position to aspire to first. You'll get some management experience as you sequence orders, verify inventory, contribute to quality control, and track orders.
Warehouse Manager
You will be eligible to apply for warehouse management positions after you have accumulated some experience in the industry. Warehouse managers oversee or participate in tasks in each of the above areas, including operating motor vehicles, overseeing inventory management, and supervising teams of warehouse associates and shipping and receiving specialists.
Liberty Staffing Can Help You Find a Great Warehouse Position
A staffing agency can be a wonderful resource for anyone who is looking for a warehouse position! We have helped countless job seekers in Southern Ontario find exactly what they are looking for in employment, and we would love to help you, too.
Staffing agencies have connections with employers who are looking for qualified candidates in a variety of positions, including full time, part time, temporary, and permanent positions. Whatever you're looking for, Liberty Staffing can help you find it! Don't hesitate–reach out to Liberty Staffing today to learn more about our services and the jobs that we currently have available!