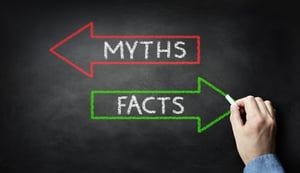 You may have heard some things about staffing agencies around town. Some of these things may have been negative. While everyone has their own opinion, a lot if what is said about staffing agencies is false. In fact, there are many common misconceptions about agencies out there.
Liberty Staffing Services is an independent staffing agency first established in 1999. We would like to dispel some of these myths.
If you're a job seeker, we hope you will consider applying with us. There are many benefits of applying to an agency, despite what some people say.
Here are the top five common misconceptions of staffing agencies.
1. Temporary Work Only (With No Stability)
A lot of people just assume that agencies only offer temporary work. This is not true for all agencies. For example, at Liberty Staffing, we offer temporary, temporary to permanent (try out the position to see if you like it), and permanent positions. We will work with your requirements to find the perfect position for you.
Many job seekers are deterred by the word "temporary", but you shouldn't be. Temporary work could mean anything. It could be an assignment for a couple of days, or an ongoing job that continues for months. Liberty Staffing has lots of great temporary ongoing opportunities available.
The great thing about temporary work is that it allows you to try out a variety of different jobs, while earning an income. This is perfect for recent grads, or those returning to the workforce. You'll be able to build up your resume, learn new skills, and find out what work you enjoy the most.
2. Take a Cut From Your Pay
This is a huge myth that we hear a lot. We often get calls from job seekers wanting to know if we take a cut from an employee's paycheque. Let's set the record straight here. Liberty Staffing does not take a cut from your pay. There is no cost to use our services as a job seeker. We also pay by direct deposit or cheque, not cash. Working without a valid social insurance number is illegal in Canada.
If you come across an agency that requires you to pay money for them to find you a job, or they take a cut from your pay, or they pay you by cash under the table, or they pay you less than minimum wage, this is not a reputable agency. Be very wary of these companies, as they do not have your best interests at heart. For example, often these companies provide workers with unsafe work, and do not provide adequate training, etc.
At Liberty Staffing, we are fully compliant with Ontario Ministry of Labour legisation.
3. Don't Pay Well
Following up with our earlier point of the public assuming that agencies take a cut from your pay, we've also heard that people believe staffing agencies don't pay well. This is untrue. Liberty Staffing offers many great temporary and permanent employment opportunities, with high hourly wages and annual salaries.
Wages are based on the responsibilities and skills required for each particular position. Our job opportunities start from $14 per hour and up. We will work with your requirements to find that perfect financial sweet spot for you.
4. Low-Level Jobs
Another myth that we'd like to dispel is that belief that hiring agencies only offer bottom of the barrel work. This claim is false. Liberty Staffing offers general labour, warehouse, and office jobs. While we do offer entry-level positions, we also have mid-level, and senior-level ranking jobs.
Looking for a warehouse manager position? We can help! Or, perhaps you're in search of a entry-level office position. We can help with that too. Don't believe us? Take a quick peak at our job board.
5. Only Offer Jobs at Small Companies
Lastly, another huge misconception is that recruitment agencies only offer positions at small companies. Liberty Staffing Services partners with companies big and small in Ontario. We work with big brand companies that are well known and reputable around the world. These companies can be considered as corporations. We also partner with companies on a smaller, local scale, that have a close-knit feel.
Let us know what work culture suits you, and we can connect you with these companies. After all, our motto is that we connect great people with great jobs.
We hope that we have successfully dispelled some of this myths for you. Are you ready to work with us? Apply to Liberty Staffing today! Contact us to get started.