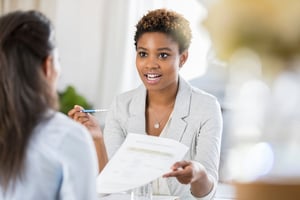 If you are part of the gig economy, you want to make sure you're maximizing your opportunities. Temporary workers are highly skilled and versatile, but it can still be tough to find consistent assignments.
Applying to a staffing agency can help you by offering unique services that not only streamline the process of finding new opportunities but facilitate better working relationships with clients as well. Some temporary workers even find a career via a staffing agency, so check out what their top five services are below.
1. Temporary-to-Permanent Placements
Some staffing agencies offer not just temporary placements but temporary-to-permanent placements as well. This is a great service to have access to, especially if you're a temp worker who is looking to eventually land a fulltime position.
Temporary-to-permanent placements are ideal for employers and temp workers alike because there's time for both parties to assess the working relationship. You also get your foot in the door in a much more substantial way than external applicants.
Even if you don't get a fulltime position out of such a placement, temporary-to-permanent positions can prepare you for fulltime employment, if you're just starting out in the job market.
2. Many Opportunities to Choose From
Temporary work is in demand right now in Canada because it's flexible and can be tailored to suit the individual candidate's work-life balance. But if you are currently landing temporary contracts on your own instead of working with a staffing agency, you often won't have a backup plan if an employer isn't a good fit.
A staffing agency will help you find a different placement that better suits your skills and experience, if you find that your current contract isn't working out.
3. Weekly Payments
Working with a successful staffing agency means a guaranteed payment schedule, which can be hard to come by in the gig economy. If you're relying solely on temporary work for your income, this service is quite a benefit. You can bank on your payments coming in on a specific date.
In the case of Liberty Staffing, temporary employees on assignments are paid every Friday. You can either pick up your pay cheque in person or set up direct deposit.
4. Access to Hidden Local Networks
At least 70 percent of jobs are not listed on traditional job boards. Staffing agencies, especially staffing agencies that are partnered with local companies, have a treasure trove of listings you can gain access to.
Longstanding partners with staffing agencies will also be much more receptive to temporary workers recommended by agencies than an external candidate looking for temporary work.
5. Expert Advice for Your Job Search and Profile
Working with recruiters means working with professionals with years of experience hiring candidates. These professionals can offer you some advice regarding how to spruce up your resume and cover letter, as well as offer best practices for your job search strategy.
As a temporary worker, you need to remain an agile learner and be capable of adapting to current market demands. Staffing agencies have the inside scoop on what makes for the most attractive candidate, so take full advantage of that knowledge.
Like what these top five services afford you as a temporary worker? Consider applying today to a staffing agency, like Liberty Staffing.