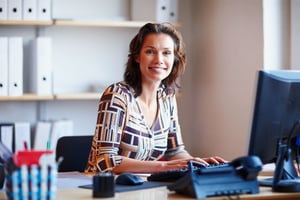 Fall is one of the busiest hiring seasons in Canada, which is great news for job seekers like you. If you've been on the hunt for a job, you'll likely see many more opportunities cropping up over the next few weeks. Prepare yourself and make sure your resume is up to date.
These are some of the best administrative opportunities you'll likely see in the coming weeks.
1. Administrative Assistant
One of the most in-demand jobs across Canada is the administrative assistant role. These days, administrative assistants fulfill many essential functions in an office environment.
Admin assistants may be responsible for managing other workers, and they may also have additional skills in areas like accounting or IT. As Southern Ontario often serves as the headquarters for businesses, you'll find plenty of these positions across the region.
2. Receptionist
Receptionists, secretaries, and administrative assistants are sometimes lumped in together, but they all have very different responsibilities.
Receptionists are often responsible for interacting with clients and customers, along with other visitors to your office. They may handle calls from potential clients or they may schedule appointments for clients and customers.
Receptionists may also have some other duties, and there is often overlap with other administrative positions.
3. Bookkeeper
You'll need some specialized skills and training for this next job.
Bookkeeping is an important administrative task for most businesses. You might start as an accounts payable clerk or in another junior position in the office accounting department. If you begin working for a small business, you may find yourself assisting another bookkeeper or even keeping the books on your own.
Bookkeepers should be familiar with software like QuickBooks and should stay up to date on the latest bookkeeping techniques.
4. Office Manager
Many offices are now looking for administrative personnel to keep operations running smoothly. An office manager is typically responsible for the office itself.
In this role, you might be responsible for hiring janitorial staff and services or ordering supplies. This typically isn't a junior role, so you'll need some experience before you apply to this kind of position. If you do have managerial experience, then it might be the right opportunity for you.
5. Executive Assistant
As already mentioned, Southern Ontario often hosts the headquarters of Canadian businesses and international branches as well. As a result, there's usually some demand for executive assistants in the region.
What does an executive assistant do? These administrative professionals usually assist those in executive positions within the company. They may make appointments and keep schedules, book travel accommodations, or complete other administrative tasks to keep operations moving through the executive offices.
You'll need experience to land a position as an executive assistant. You might start as an administrative assistant before moving up.
6. Accounts Payable Clerk
This is another common position in the accounting department of many offices. The accounts payable clerk works to make sure the business's vendors and suppliers are paid on time and accurately.
This is usually an entry-level position, which makes it a great stepping stone if you're just getting started in accounting. Almost every business will employ an accounts payable clerk to keep track of its outgoing payments.
There are many different administrative positions in Ontario businesses. If you're looking for an administrative job right now, apply to Liberty Staffing today!