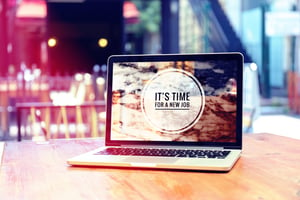 Like many people, you probably made some New Year's resolutions. You've worked hard but perhaps you have not been able to achieve every resolution you set for yourself. Now it's time for you to re-evaluate your goals for the year.
You may have decided not to put every plan you have for the year into action starting January 1st. You've decided to implement some goals more slowly, taking your time instead.
This certainly isn't a bad approach to the goal of starting a new job in 2019. After all, patience is often rewarded during the job search. You definitely don't want to jump into a position that isn't right for you either, so biding your time might seem like a good strategy.
Now that January's over and we're into March, you may be feeling a bit behind. If you're waiting to start a new job, here's why it's not too late to get started now.
Why You're Waiting to Start a New Job
The first thing to do is examine why you're waiting to start a new job in 2019. Maybe you haven't started your job search just yet, or maybe you're trying to practice patience. You don't want to rush into the wrong position.
You may have strategized hitting the job market a little later in the year. After all, January is sometimes a slow period for hiring. You expect the job market to pick up and present new opportunities later in the year.
You may also be waiting to start your new job because you haven't found one yet. For you, there was no hesitation. You launched your job search on January 1. You just haven't had much luck locating the ideal opportunity.
It could be a lack of available positions, or perhaps you haven't been able to pinpoint the jobs you're qualified for. Maybe you've had several interviews. Maybe you haven't. Whatever the reason, at this point, you've still got your ear to the ground about opportunities, but the hunt continues.
The Right Position is Out There
If you're hesitant about starting the job search, or you're getting frustrated with it, know this: the right job for you is out there.
Even if you've been applying to jobs for a month straight, and you haven't heard back yet, keep your head up. The right job exists. You just have to find it.
The same is true if you've been searching open roles and not finding any great positions to apply to.
Are you looking in the right places? This could be one of the reasons you're not finding the jobs you want to apply to. Expand your search. Go beyond the usual job boards. Try something other than LinkedIn or Indeed. Check in with friends, and keep your networking skills sharp.
There are probably more jobs out there than you know. Recent statistics suggest 39% of small to medium enterprises are struggling to find employees in the current job market.
Get a Helping Hand With Your Search
It might be time to get some help with the search. If you're feeling stuck, reach out to a staffing agency like Liberty Staffing Services.
Our recruiting experts at Liberty Staffing can help you expand your search. We know the employers in need of workers, and we know where to find those open roles. We can help you apply to them, as well as help you polish up your resume, and practice your interview skills.
A staffing agency like Liberty Staffing can assist you in locating that perfect job sooner. If you've been waiting to start a new job, it's time to get started. There's no better time to find your new job than right now!