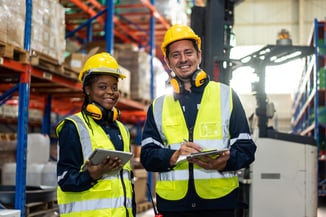 Are you looking for a job in Ontario? Liberty Staffing Services is currently hiring for various warehouse positions! We have warehouse jobs available in Cambridge, Guelph, Kitchener/Waterloo, London, Stratford, and Woodstock, Ontario.
The holiday season is just around the corner. Now is the perfect time to gain a great new warehouse job with Liberty Staffing! Earn some extra money this holiday season.
Liberty Staffing Services connects great people with great jobs. Here's some more information about us, and the warehouse jobs that we offer.
About Liberty Staffing Services
Liberty Staffing Services is an award-winning independent staffing agency with multiple branch locations across Ontario. First established in 1999, we've been helping job seekers find employment for 24 years!
We offer general labour, warehouse, industrial, factory, and office jobs in temporary, temporary to permanent, and permanent positions.
Our recruiters have years of experience, and will work with your requirements to ensure that we match you with your dream job.
Liberty Staffing Services makes the job hunt easy. Simply register with us, and we'll offer any jobs that we have available that fit what you're looking for, and that match your skills/abilities.
Best of all, our services are completely free to job seekers!
Warehouse Jobs Available
First off, what does a warehouse job entail? A warehouse job could be anything from shipping/receiving, order picking, forklift operating, packaging, assembling, etc.
Most of the warehouse jobs that we have available are entry-level, which means that there is minimal to no previous experience required in order to perform the job. Warehouse jobs are great for candidates who are looking to enter the workforce for the first time, or for those who are looking for a temporary job to help supplement their income.
Apply With Us Today!
Ready to apply with us? Start our online application, and then contact your nearest Liberty Staffing Services branch location for a phone interview. Or, you're welcome to come into one of our offices for an in-person interview. We look forward to connecting with you!