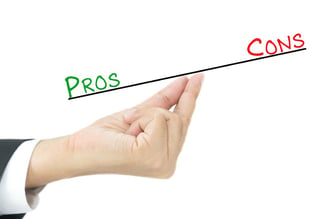 The use of temporary workers has increased drastically over the last several years. Though the staffing industry has been around for decades, temp positions almost exclusively used to focus on low-level, administrative positions in the industry's infancy. But now, temp workers are highly skilled, educated, and experienced. Employers can utilize temp workers in a wide variety of positions in virtually any industry, such as accounting, nursing, information technology, manufacturing, and so much more.
As you see an increasing number of your competitors and allies hiring temporary staff these days, you might be wondering whether you should be jumping on the bandwagon, too. Though hiring temporary staff isn't the best decision for every business owner, it can be highly advantageous to many.
Weigh these pros and cons to see if hiring temporary staff is right for you.
PROS:
Immediate Availability
Sometimes, you need staff right away. You might be facing a huge influx of work. One or more of your employees might be out sick for an undetermined amount of time. A sudden emergency might unexpectedly take one of your employees away from the workplace. Whatever the reason, you need help—now.
You don't have time to go through the typical hiring process. You don't have time to post job ads, wait weeks to accept applications, sift through dozens or hundreds of resumes, and interview several candidates. So what do you do? You can turn to a staffing firm for help in hiring temporary staff. A staffing firm will have a big candidate pool filled with qualified workers just waiting for a call. Just pick up the phone and you'll have a replacement worker in no time—for as little or as long as you need him.
Reduced Labour Costs
Hiring temporary staff allows you to reduce your labour cost. When you only need a bit of help every once in a while, your labour needs might not warrant you hiring another permanent worker. Instead of paying full-time wages for an employee you won't always need, hire a temp to ensure that you're not paying for wasted hours.
Try Before You Hire
You can significantly reduce your risk of bad hires if you try out a new worker before offering him a permanent position. When you hire temp workers, you can try them out, see how well they work in your environment, and base your hiring decisions on their work ethic and hands-on skills, without the financial commitment of keeping them on if they aren't working out.
Access Specialized Skills
When you have special projects that need to be completed but your current staff members don't have the skills needed to handle them, hiring temporary staff is an excellent choice. Your staffing agency can find you qualified workers with the unique or special skills that you require.
CONS:
Additional Training Requirements
When you're constantly hiring new temps, even if they're qualified, you're going to have to invest some time and personnel to train them to work in your unique environment and get familiar with the processes and procedures you use.
Safety Risk
If you work in a risky industry, like construction or warehousing, using temps who aren't accustomed to your specific work environment can increase the severity and frequency of workplace accidents.
Legal Issues
Hiring temporary staff comes with its own unique legal risks, such as worker classification. If you and your staffing agency aren't following the rules, you could get into trouble with the government for non-compliance.
Office Bonding and Collaboration
Using temporary workers might affect the degree of collaboration and bonding that occurs within your team. Your permanent workers might not want to invest their time into getting to know your temps if they're only going to be around for a short while. This can make it difficult for your temps and permanent staff to build camaraderie, bond, and collaborate.