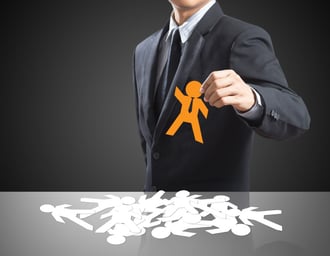 As a business owner, you know that having the right people on staff is a vital part of your overall success. Hiring the wrong permanent and temp workers can reduce your productivity, increase your risks and liabilities, and hurt your bottom line.
If you're considering working with a staffing firm for your recruiting and hiring needs, it's extremely important to choose the right agency that will help you achieve your goals. Your partnership with the right agency can be a strategic move that enables you to hire productive, motivated top talent—but your staffing needs won't be met if you choose an agency that isn't quite right for your business.
Here are some of the factors you should consider before making your final decision.
Great Candidate Pool
Naturally, the first aspect of a staffing firm that you're going to want to look at closely is its candidate pool. You are relying on the agency to find you top talent—candidates who will be an excellent cultural fit and who will have the qualifications that you're looking for. If a staffing firm can't produce the type of quality you're looking for in new hires, move on to the next agency on your list because it's not going to work out.
When you're shopping around, ask different firms where they recruit their prospects, how they screen them, and how high their success rate is. Do they only recruit the top 10 percent of talent in a given industry? Do they go above and beyond to search in innovative places and recruit passive candidates that are typically better hires? The answers will give you clues into the quality of the firm's candidate pool.
Niche
If your hiring needs are based on a particular field or type of worker, you should be looking at staffing agencies that specialize in recruiting and placing the types of candidates you'll need.
Many firms work within a particular niche—they might exclusively place workers for admin work, recruit any and all types of IT specialists, work solely in the manufacturing or industrial area, or only focus on higher-up managerial positions.
For best results, it's better to partner up with an agency that specializes in the type of worker you need or the industry you're in. When a firm specializes in one niche, it will have expertise, experience, and knowledge about the field that could be invaluable to your business.
Added Perks and Extra Services
Many staffing agencies do more than just recruit and place candidates for their clients. In the highly competitive staffing industry, firms have started to differentiate themselves from the competition by offering unique perks and services to their clients.
Consider what would benefit your company: maybe you want the agency to perform skill and personality tests, perform background checks, or help with onboarding and training. Make sure you're getting exactly what you need from the staffing firm you ultimately choose.
Customer Service
To get the best results, you're going to need to have a great relationship with the representatives at your staffing firm – so the firm's customer service levels will be important. You want to be able to have an amicable relationship with your account managers, be able to provide honest feedback, get your questions answered promptly and have your needs met efficiently. If you're having a hard time getting anyone on the phone when you're looking for a quote or to book a consultation—move on, it's a bad sign.
For the Good of Your Company
You shouldn't be making your staffing firm choice willy-nilly, it's too important of a decision requiring thought and strategy. Make sure you do your research, consider the pros and cons of each agency you look at, and get everything you are looking for from the staffing firm you end up choosing. For the good of your company, make the right choice.