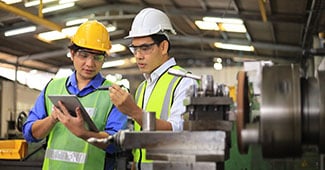 Is flexible work possible for industrial workers? As flexible work gains popularity among Canadian workers (particularly through the COVID-19 pandemic), employers in industrial fields have been wondering how they can offer what people are looking for.
Manufacturing and other industrial employers can work with a staffing agency to find the best employees for their team. Contact Liberty Staffing today to learn more about how you can onboard great team members who are looking for the exact benefits you have to offer, including flexible work.
What is Flexible Work?
When people say they want flexible work, what do they mean? Flexible work uses a scheduling system that gives employees significantly more control over when and where they work. Some jobs are a more natural fit for flexible work than others. For example, a machinist can't take their equipment home with them and get their job done.
Flexible work can allow employees to work from home some or all of the time, choose their own schedules, condense their workweek into fewer days (but about the same number of hours), or work around a second job while avoiding burnout.
Benefits of Flexible Work
Some of the benefits of offering flex work options to your employees include increased morale, higher productivity levels, better recruitment and retention levels, reduced absenteeism, a better work/life balance, reduced spending on utilities, and flexibility in the event of pandemic-related closures.
Is Flexible Work an Option for Industrial Workers?
If flexible work is such a great idea, it makes sense as to why so many people are interested in it. But is it really an option for employees in the industrial world? It can be. Companies that adapted well to flexible work options during the pandemic are not automatically abandoning their new habits now that things are returning to relative normalcy.
Let's take a look at some of the ways that flexible work can be implemented for industrial workers.
Flexible Alternatives for Industrial Employees
Even for positions that cannot be performed while from home (like most industrial jobs), there are still a lot of options to attract workers who are looking for more flexibility on the job.
People may be drawn to work that allows them to transition easily between types of shifts, or choose non-traditional shift options. A non-traditional shift option may be to work slightly longer workdays in order to get an extra day off every week. Another option may be for people to choose a shift that works well for their schedule, especially if they are raising children or working multiple part time jobs.
Piloting New Programs Helps You Discover Your Options
Manufacturers may not be able to jump immediately to having lots of workplace flexibility. However, pilot programs can be a great option for discovering where flexibility may exist!
Before creating a pilot program, take a look at what your competitors and colleagues across the industry are doing in terms of flexibility. Are there some things that you could potentially implement in your workplace? If so, that may create the perfect piloting opportunity!
A pilot study involves choosing a small number of participants and a manageable, trackable change for a period of time. If the study is successful, then it can be further implemented on a larger scale. If it doesn't work out, you have not put too much time or too many resources into making a huge, company-wide change.
Many manufacturers and industrial companies will be trying out pilot programs in the months and years to come to figure out what options they have for attracting industrial workers to flexible opportunities.
Liberty Staffing Can Help You Find the Right Additions to Your Team!
A staffing agency, like Liberty Staffing Services, can direct quality industrial workers to your company. Candidates will be enticed to work at your company if you offer flexible work options.
Reach out to Liberty Staffing today to find out how we can connect your company with great candidates, including part time, full time, temporary, and permanent workers.