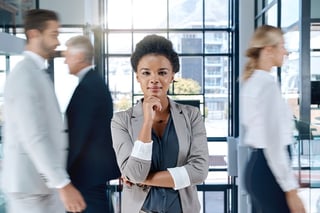 Not everyone is cut out to be a temporary worker. Some people get frustrated about moving from workplace to workplace on short-term assignments. Others aren't motivated to work hard in a job they'll soon be leaving. As an employer, it's not ideal to hire temps who don't perform well. You need to hire the best temporary workers. But how can you identify them? Here are some of the qualities that the best temporary workers have.
They Have a Good Work Ethic
A good work ethic is a very important quality to look for in temp workers. When you hire temps for short-term projects, you need them to work hard to get the job done. You don't want to hire temps who spend their workdays avoiding their duties.
They Embrace Change
Some people like to have a routine and don't like change. The best temporary workers, however, are very flexible and don't mind changes in their routine. Sometimes, temps are sent between different job sites regularly, and may only spend a few days in a workplace before moving on. The best temps enjoy these new experiences and challenges in each workplace.
They're Confident
Confident people are sure of their work, which makes them more likely to succeed. You may have time to instill confidence in your full-time employees, but you may not have time to do the same for your temp workers. The best temp workers are naturally confident and know that they have what it takes to succeed.
They're Cheerful
Grumpy people aren't fun to spend time with, and they're also not good for your business. Emotions are contagious, and you can't afford to bring negative temp workers into your workplace. Their bad attitude can rub off on the people around them, and bring down morale and productivity. Look for temp workers that are cheerful and easy to get along with. Their positive attitude will spread to throughout the workplace.
They're Willing to Learn
While the temps you hire may have experience working in your industry, they may not know everything they need to succeed at your company. You may use different computer programs or different equipment than other companies. The best temps are willing to learn how to use new tools and technology. They ask questions to help themselves learn more about how you do things.
They're Resourceful
When you only need temporary workers for a short-term project, you may not have time to train them thoroughly. The best temp workers are resourceful, and they can figure things out on their own. They know how to use the tools at their disposal to get the answers to their questions.
They Have Good Communication Skills
Good communication skills are essential for success in the workplace. Communication skills include listening, reading body language, and speaking clearly and concisely. When temps have these qualities, they can get along well with coworkers or customers. They can understand feedback from their supervisors, and they can express their thoughts and feelings clearly.
They're Professional
Unprofessional workers don't behave appropriately in the workplace. They may wear inappropriate clothes, speak inappropriately, or not show up for their shifts. These are qualities that you don't want in a temporary worker. The best temporary workers will always dress and act professionally.
They're Dependable
Employers hire temps when they need to solve their company's staffing problems. When a temp isn't dependable, they create a new staffing problem for you. The best temp workers always show up on time for their shifts and get their work done. When they say they're going to do something, you can trust they'll do it.