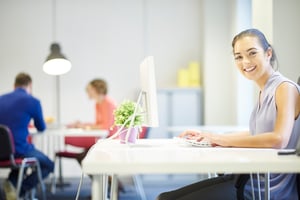 The final bell has rung, and school is officially out until September. For some people, that brings to mind thoughts of cottage vacations, summer camp, and days at the beach.
For people like you, summer jobs are at the top of your mind. You've already polished up your resume, and you have your references at the ready. Now you just have to decide what kinds of jobs you want to apply to.
Some positions make better options for summer employment than others. If you're on the hunt for a job for the summer, take a look at some of these traits.
Look for Summer Jobs with Potential to Continue
One trait students should keep an eye out for is the possibility for the job to continue once the summer is over. You may be thinking of this as a temporary assignment, but when fall rolls around, you might decide you want to stay on part time.
Many students do end up staying on in their role during the school year in a part time capacity. Ask potential employers if there's any possibility of fall hiring, or turning the position into a part time one.
You can also ask about other opportunities. Some employers will hire again during the holidays, while others hire back top performing students season after season. What starts as a summer job could turn into a mutually beneficial arrangement for seasons to come.
Get Experience in a Field of Interest
Another quality to look for in a summer job is the experience it gives you. While every job could help you build important soft skills, only some of them will let you build specific skills in a field of interest.
If you're not sure what career path you want yet, summer jobs are an excellent opportunity to test the waters. If you think you might want to be an accountant, but you're not sure it's right for you, see if you can find a job that will give you some experience in this area.
Not only will you have a chance to start building your resume or portfolio, but you'll also be able to determine if a particular path is really for you.
Future Opportunities with the Company
Suppose you're hired on as a line worker in a food packaging company. You may not believe this experience will be important later in your career, but it could help you develop important relationships at a company.
Food packaging companies, for example, may also hire marketers, salespeople, accountants, and even food scientists. Your summer working for this company could help you land on your feet after school, and take the first steps towards building a successful career.
Seek Out Networking Opportunities
Another factor you should keep in mind when you're looking at summer jobs is the opportunity to network with professionals in the industry and in your chosen field. If you're in the sales department, ask if you can sit in on a sales conference, or head to a trade show with the team.
There may be other opportunities to network, both at conferences, or internally during company events and meetings. Networking is key to building a successful career, so think about how an employer could offer you chances to connect.
Training and Education Opportunities
Similar to networking opportunities, training and education opportunities should also be on tap at your summer job. Your employer should most definitely provide basic training to help you do your job efficiently and safely.
You ought to take note of any opportunities to participate in extra training and education. Attending a workshop or conference could be one way to start honing the skills you'll need when you're finished school.
If you're looking for a great summer job, let Liberty Staffing help. The right job is out there.