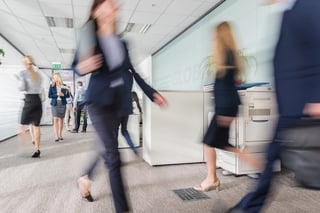 If you're a hiring manager trying to land solid candidates for temp office jobs in London, Ontario, it can tricky to determine what qualities are the most important. Yes, you know the standard drill for temps is that they should be reliable (e.g., showing up on time, producing solid work) and skilled enough that there isn't a need for extended onboard training. But when you're hiring for an office position, you should consider what sort of temp will fit your specific work environment.
In the case of office jobs in London, Ontario, there are several work environments temps could be hired for. London's economy is made up primarily of a mix of medical research, insurance, manufacturing, and a booming IT sector. No matter which of London's major industries you may be hiring for, you need to ensure your temp is able to integrate smoothly into your daily operations.
Liberty Staffing's London, Ontario branch has a new division specifically devoted to office placements. Check out our tips below for what to look for when hiring temps for office jobs in London, Ontario.
Do They Have Previous Office Experience?
All the enthusiasm in the world can't prepare a temp to have a natural cultural fit for your office environment if they have no relevant experience prior to your position offered. You need to be certain that the temps you onboard have enough business experience to adapt quickly to your company.
Most likely you'll be looking for an administrative assistant or perhaps a customer service representative of some sort, and if your office is demanding, your temp will need to handle several responsibilities at one time.
Temp candidates don't necessarily have to possess the exact skills needed for your industry. Candidates should, however, demonstrate a good understanding of what it's like to work in an office environment. Sometimes you can get lucky with candidates at the student level if they have completed internships in an office-like environment or if they've held entry-level jobs that required them to be multitaskers and great communicators. But ideally, you'll want to hire candidates who have general office skills.
Do They Have Certifications Specific to Your Industry?
While most office jobs require only a minimum of a high school diploma for certifications, you must take stock of what is unique to your temp job. If your temp position is for one of the many IT companies in London, then you might want to consider if your candidates are tech savvy. Do they have any tech certifications in programming, for instance?
Most of your positions are going to be fairly entry-level, perhaps to cover for absent employees (e.g., those on vacation, maternal/paternal leave, sick leave, etc.). But you must be sure you don't exacerbate a skills shortage because of bad temp hires. Which brings us to our last quality to look out for when hiring temps for office jobs in London, Ontario.
Are You Hiring a Temp for a Special Project?
Keep in mind if the candidate is being brought onboard for a special project as well. If you are hiring for a project, then you need to ensure the temp has sufficient credentials and experience to bring to the project. Bad hires for projects don't just cost you money and morale, they cost you progress.
The bottom line is that the best temps to hire for office jobs are those who have enough previous experience to adapt to the work they've been assigned. Specific certifications are a plus and will be necessary if you are hiring them for a special project. Some candidates are also prime for temp-to-permanent positions because they're both skilled and culturally fit.
Whatever the case may be, keep these qualities in mind when you are working with a staffing agency to solve your evolving temp staffing issues. Call Chrystyna, our Office Recruitment Specialist in London, Ontario at (519) 453-9021. She can help you staff your office positions.