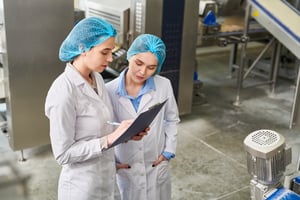 The food processing industry is the second largest in Canada, yet many people never consider a career in this field. It's even more surprising because there's such a wide range of roles available.
What's involved in a food processing job? It depends a bit on where you work and the kind of job you want.
Different Roles in the Food Processing Industry
The first question you likely have is about which jobs are available in this industry.
Many food processing jobs focus on preparing and packaging different food items. For example, Butchers may work at a meat processing plant or a grocery store. They trim meat and package it for sale. Fish, meat, and poultry Cutters and Trimmers have similar responsibilities.
Food Batchmakers may produce food items such as cheese and candy. Like Butchers, Bakers can work in varied workplaces, such as commercial bakeries or local bake shops.
Many food processing workplaces require a number of different workers too. In some businesses, Machinists, Electricians, and other maintenance personnel are essential. They keep machines in good working order so plant operations can continue smoothly.
Many food processing companies engage in research and product development. You may need a background in food science for one of these roles.
Finally, all food processing industry players have administrative functions, such as payroll and human resources. They also have sales and marketing departments.
There's no shortage of selection when it comes to jobs in food processing.
Duties in a Food Processing Job
What you'll do in the food processing industry will depend on what kind of job you get. If you're working as a Food Packager, you'll have a different set of responsibilities compared to someone working in sales.
Those who are working on the floor are usually responsible for following recipes and upholding food safety standards. You may need to test food for safety and quality. You may be required to follow packaging guidelines.
These roles are vital to keeping operations running smoothly and protecting Canadian consumers and their families.
Why You Should Consider a Role in This Industry
You've seen there are many different kinds of jobs available in the food processing industry in Canada. If working on the floor as a Butcher or Baker doesn't appeal to you, working in sales and marketing might.
You should consider pursuing higher education related to food science to secure a role in research and development. There are also management opportunities available.
This is clearly one of the advantages of building a career in this industry. With such a wide range of roles, your career path options are almost endless. You may start by working on the floor and advance into management, or head into business administration or food science as you complete more training and education. You can also advance from roles such as Food Packager to Butcher or Baker.
Another key factor is that the food processing industry is large and strong. Although there may be boom times and slower times, people will always need food, so there will always be jobs in this area.
Work With a Staffing Agency to Find Jobs Near You
Many in the food processing industry work with staffing agencies to find top talent. This is especially true of some roles, such as Food Packager. Even more advanced roles may be advertised with a staffing agency.
Working with a staffing agency gives you access not only to jobs but also to expert advice. You can work with a recruiter to determine which roles suit you best and which ones you're most interested in.
If you want to map out a future in food processing work, get in touch with Liberty Staffing today!