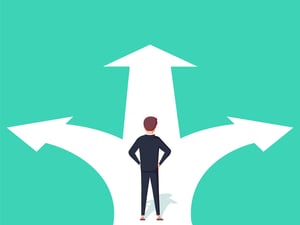 Are you entering the workforce for the first time? Is your graduation on the horizon? It's probably time to start thinking about your career (if you haven't already).
If you're unsure of what professional field you'd like to get into, that's okay. This is normal. Many people don't know what they want to do straight out of high school, or even after graduating from college/university.
So what career is right for you? If you're unsure about what path is right for you, Liberty Staffing Services would like to provide you with some tips. Here are a few things to think about when choosing a job. These should help you to determine your ideal career.
1. What Are You Passionate About?
Ask yourself this question honestly. What are you most passionate about in life? For example, do you enjoy writing? A content creator or journalist role could be the career for you. Are you passionate about numbers? How about an accountant, or financial advisor position? Do you love to travel? Think about becoming a flight attendant, or travel advisor. Do you enjoy creating things and working with your hands? Perhaps carpentry, tool and die making, or a general labour role would be the right fit.
The answer to this question should nudge you in the right direction towards what your career should be. After all, ideally your job should be related to something that you're interested in.
2. Assess Your Strengths and Weaknesses
You'll need to do another self assessment for this one. What are your strengths and weaknesses? These could be related to soft or hard skills. If numbers are not your thing, that probably means you can rule out accounting. Handy with tools? Skilled trade jobs would probably suit you best.
3. Seek Advice
If you have a general idea of what field you'd like to work in, it's always a good idea to ask others about the profession (particularly those who are working or have worked in a similar role). To do this, ask friends and family members if they know of anyone who works in the field that you're interested in. If you don't know anyone working in the field, LinkedIn is a great place to connect with like-minded professionals. Reach out to someone in a similar role on LinkedIn. You'd be surprised as to how many people would gladly speak with you on the subject.
You can also seek guidance from a staffing agency like Liberty Staffing. Our recruiters have years of experience, and we can help you determine what role would best suit you based on your skills.
4. Take a Career Test
If you've completed all of the above, and you're still not sure what you'd like to do professionally, you can always take a career test. Some tests are available for free online, and some charge a small fee (and are probably more detailed). Try out a few of these tests and go from there.
5. Try a Temporary Job
Lastly, but certainly not least, try out a temporary position in the field that you're interested in. Liberty Staffing Services offers general labour, warehouse, industrial, and office positions in temporary, temporary to permanent, and permanent opportunities. The great thing about a temporary role is that you can try out the job on a short term basis, and earn money at the same time. It's a win-win situation!
The length of a temporary position varies. The position could be for a couple of days, or for several months. Also, all jobs have the potential to become permanent. It's what you make of it.
Ready to start a temporary job? Contact us today! Liberty Staffing connects great people with great jobs.