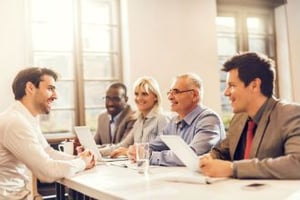 If you're hoping to find the best talent to fill open positions in your business, you're not alone. Many employers are now shifting toward long-term partnerships with staffing agencies, especially in a low-unemployment, job-rich market. If you thought hiring was tough before, it's about to get even tougher.
When it comes to choosing a staffing firm to partner with, you have choices. Agencies run the gamut from huge multinational operations to local independent companies. Liberty Staffing Services is an independent firm.
So who should you choose to work with?
The Appeal of Large Corporations
The big players in the staffing field tend to be multinational corporations. Many of them have operations in Canada, the US, and even other locations around the world. They have multiple offices across Canada.
Some of them have been in business for a long time. They'll claim their enormous size helps you reach more candidates in more markets, which ensures you'll get the best talent to fill any role in your company.
You may wonder how small, independent operations can compete with these claims. Once you realize the advantages of working with an independent company, however, you'll understand how a niche staffing firm can help you make better hiring decisions.
They're Local
Most independent staffing agencies are local. They operate in your community. Those that have additional branches in other communities are focused on servicing those communities.
Most employers actually prefer to hire local, since it eliminates lengthy commutes, concerns about employee safety during winter travel, and concerns about new hires relocating. In short, hiring local is better for both you and the employee.
An independent staffing agency knows and respects this! It's why local recruiters focus their efforts on finding local talent and pairing it with local employers. Big corporations may find you more candidates or even more qualified candidates, but those people could be applying from almost anywhere in the world.
They're Personalized
Another reason to love working with an independent staffing firm is the personalized service you're going to receive. Huge multinational companies have offices in many different locations. If you need to call them or talk to customer service, you're probably talking to someone located in an office in another city. They may even be in another country.
Bureaucracy is also rampant in big corporations. They need structure and formal policies to guide their massive operations, but this reduces their flexibility and their ability to cater to your needs.
An independent staffing firm is nimbler and more flexible. You can rest assured the person you're talking to is sitting in an office in the same country, often in the same town. You might even be able to walk over and meet them face to face. This closeness guarantees better service.
Flexibility also means you'll get the services you need, not a generic package designed to fit other companies. An independent staffing firm cares about your company, and it is going to help you find the talent you need.
They're Preferred by Candidates
Most job seekers would prefer to work with an independent staffing firm for many of the same reasons. They feel they receive better advice and more personalized treatment when they join forces with an independent firm versus one of the big multinationals.
Why is this important? It means independent staffing firms actually have a better chance of attracting the people you want to work for you. Since they have a better reputation with local job seekers, they'll actually be able to find the people you need for your business.
Working with an independent staffing firm is a smart decision. It benefits both you and the employee, with better outcomes for everyone. Contact Liberty Staffing today to get started.