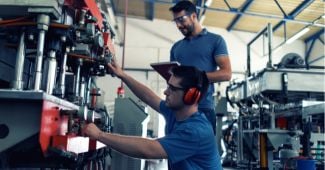 The manufacturing industry has figured out one of the most effective ways to keep operations running smoothly: temporary employees.
Temporary workers bring incredible value to manufacturing companies, especially at a time when hiring and staffing trends are such a big challenge. If you're looking for great new people to join your manufacturing facility, reach out to Liberty Staffing to get connected with an exceptional pool of temporary workers.
Let's take a look at some of the reasons why manufacturing is turning to temp workers for success and growth.
Temporary Workers Provide Flexibility to Meet Fluctuating Demands
There are natural ebbs and flows to demand in a manufacturing facility, and temporary employees provide great flexibility in response to those changes. You can bring on extra workers for busier seasons and special projects without having to permanently increase your headcount.
All of this allows you to be more effective in your alignment of labour costs and revenue projections.
You Can Use Temporary Staff to Cover Employee Absences
Your temporary staffers can fill in when permanent employees are absent, whether for a vacation, an illness, or any other reason. As a staffing agency, we often place temporary employees into positions when a permanent employee takes parental leave or is on a medical leave of absence.
The end result of this strategy is that you have more consistent coverage over time, and you don't have to be stressed when people from your permanent team need time off.
Temporary Workers Bring Specialized Skills to the Workplace
Sometimes, manufacturing companies need to tackle a project that requires unique skills that their current workforce lacks. For example, you may need to install a new machinery system that requires your workers to have specialized knowledge. However, after the installation, your need for that skill set goes back down.
Hiring temporary workers to come on board for the installation project is a great way to ensure that your team knows how to do the work, and that your payroll costs go down when the project is over.
You Can Screen Potential Permanent Hires
Temporary assignments can serve as an extended interview or trial period for candidates that you are considering for a permanent position. This is such a great way to get to know your contract-based staff before you hire them permanently.
You can find out how they perform their job duties, how quickly they adapt to change, what kind of attitude they have toward supervisors and coworkers, and what kind of employee they are when things get stressful.
If they aren't working out, you can simply say goodbye at the end of the contract period. But if you see that they would be a great addition to your team, it may be time to issue a permanent job offer!
Temporary Workers Help You Avoid Layoffs
Having a flexible temporary workforce allows you to scale up and scale down effectively. Instead of paying the financial and emotional costs related to a Reduction-in-Force (RIF), you can simply wrap up contracts with temporary workers when you need to scale back down.
Whether you need to reduce your workforce because of unexpected challenges or predictable patterns in manufacturing, temporary workers are a great solution to the problem of layoffs and severance packages.
More Reasons to Consider Hiring Temporary Workers for Your Manufacturing Company
Perhaps the biggest advantage of using temporary workers is that you can use them to quickly adapt to the changes in the manufacturing industry.
As you already know, manufacturing sees sudden spikes and dips in production demands. Even with excellent projections, there can be unexpected road bumps that you need to adjust to. Temporary staffing allows you to scale up or down swiftly so that you can nimbly manage these demands.
Working with a temporary staffing agency means that you can trust your recruiting, hiring, onboarding, training, payroll, and more to an outsourcing partner who knows how to help you grow.
Temporary staff can help you get up to speed rapidly, fill urgent needs in real time, and prevent costly and time-consuming bottlenecks in production.
In addition to flexibility, temp workers expand your access to specialized skill sets on an as-needed basis. Manufacturing facilities are often confronted with a need for niche technical skills, especially when adopting new equipment or workflows. Bring in temporary workers with targeted expertise in these emerging areas so that your permanent hires can continue with their essential job duties.
Liberty Staffing: Southern Ontario's Leading Staffing Agency
At Liberty Staffing Services, we have been supplying manufacturing companies, warehouses, offices, and more with the temporary staff they need for 24 years!
Reach out to us today to find out how your manufacturing company can grow and thrive with the help of highly qualified temporary employees from Liberty Staffing Services.