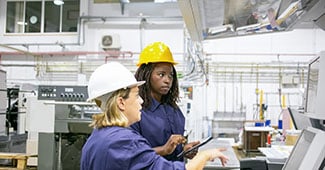 As a hiring manager or business owner of a manufacturing company, you know how important it is to find great employees. This is especially challenging these days when worker shortages mean that job seekers have more options as they choose where they want to work.
If you are currently searching to hire new manufacturing employees, be sure to check out Liberty Staffing! Contact us today to learn about how to find permanent and temporary employees to get yourself back to full worker capacity.
What are the Benefits of Hiring Temporary Workers?
As a staffing agency, Liberty Staffing has years of experience when it comes to connecting temporary job seekers with meaningful employment across countless industries.
Temporary workers are those who come on board on a non-permanent basis. There is often a window of time when they are going to work. For example, they might join your company for a six month contract, or just for peak season.
Temporary workers look for these positions for a few reasons. First, they might be having trouble finding a permanent job that matches their experience, schedule or pay needs. Second, they may want to work while they are home from university or living somewhere temporarily. Third, and finally, they may hope to "get a foot in the door" at a place of business so that when the opportunity arises to get a permanent position, they have already proven themselves to be a great addition to the team.
Hiring these temporary workers allows you to quickly scale up when you're in a period of growth. You can also alleviate the stress that your employees are feeling if you are currently understaffed.
Of course, hiring more workers also means that you're going to cut back on overtime pay because you won't need to ask your current employees to show up for longer shifts.
Temporary Employees Can Solve Your Worker Shortage Crisis
If you are a manufacturing company that is currently understaffed, you are certainly not alone. In October 2021, staffing vacancies in the manufacturing sector were higher than they have been since 2015.
Manufacturers are dealing with workers that have retired early and left the workforce, parents who have lost access to reliable and consistent childcare, people who have decided to stay home to protect themselves and/or vulnerable family members from disease, and unfortunately, workers that have been affected by COVID-19.
At different points in the pandemic, some manufacturers have had to temporarily close their doors due to outbreaks or regional lockdowns. Even if they were able to continue to keep their workers on payroll, this proved to be a time when many employees decided to leave the workforce or switch careers.
For many manufacturers, it has been difficult to build up to those previous staffing levels. If you are trying to get back to where things were before the pandemic–especially if you are now experiencing higher demand–temporary employees may be the perfect solution.
Where to Find Great Temporary Manufacturing Staff?
A staffing agency is a great resource for onboarding temporary staff to your company! At Liberty Staffing, we have connections with companies all over Ontario. We are also one of the first places that job seekers think of when it comes to finding temporary work fast. Instead of trying to track down temporary employees on your own, a staffing agency can make those connections for you and even manage the hiring and onboarding processes to get people into your business as soon as possible.
If you want to learn more about how a staffing agency can help you solve your workforce issues by providing you with high-quality temporary employees, reach out to Liberty Staffing today!