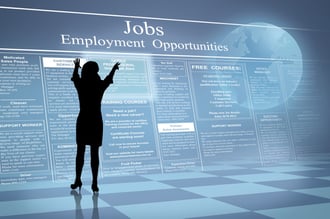 Recruitment agencies get a bad rap—they're very misunderstood and this is unfortunate considering they offer many benefits. Many business owners think recruitment agencies only fill temporary positions for low-level or administrative work. But they're so much more than that. Many agencies fill full-time positions, too, in virtually every industry. And you should consider using one.
Here's why.
Market Insights
Recruitment agencies know their niches intimately. They can give your hiring managers valuable insights into what's happening in your industry or within the field of expertise you're trying to hire from. Third-party recruiters know where to find top talent in your market and how to reach out to them. They also know the typical career expectations, salary rates, challenges, and hiring complexities. Recruitment agencies not only hire workers for you, but they act as collaborators and partners, being your eyes and ears in the market.
A Wider Reach
Recruiting agencies have extended reach. Many quality candidates are hard to find, perhaps because they're passive or selective. But there's a strong possibility that your recruiters will already know who the most talented candidates are and how to reach out. These agencies have deep networks with candidates. They may already be in contact with the type of experienced experts you need for your full-time positions. It's a lot easier to hire those hard-to-find quality candidates when your recruiters have already built loyal and trusting relationships with them. You can leverage your agency's networks to connect to the people with the experience, education, and skills that you're looking for—candidates who might be off your hiring manager's radar.
Quality Candidates—Not Applicants
When you recruit and hire in-house, the typical hiring process is aimed at attracting applicants: placing ads online and waiting for interested job seekers to apply. You then spend time filtering and assessing resumes. And oftentimes, you come to realize that not one single applicant in the dozens or hundreds who applied is remotely qualified enough to take on the full-time position.
When you work with recruitment agencies instead of going through this painstaking and ineffective hiring process, you get to spend your valuable time only considering candidates, rather than applicants—people who have been specifically selected and vetted for the job based on their skills and experience. You'll only be considering job seekers who are actually worthy of your time and attention for the position.
Employer Branding
If you own a small business, you might not have the time, skills, or resources to market your employer brand. Unfortunately, this means that many qualified job seekers won't even consider working for you—because they know nothing about you. Recruitment agencies can help. They can give candidates insights into your company—your culture, the perks, the career possibilities, and what it's like to work for you. Good recruiters will spend time getting to know you and your company, so they can better represent your business as an employer of choice.
Access to Skills, Experience, and Expertise
You don't want to make bad hiring decisions—it can significantly harm your reputation and your bottom line. Many companies choose to work with recruitment agencies for all of their hiring needs in order to gain access to hiring skills, experience, and expertise. When you work with an agency, you can reduce your employee turnover by hiring right the first time.
Reduced Costs
You will have to pay a recruitment agency a fee for its services, but what you'll receive will be well worth the cost. You'll save valuable time from doing the work yourself—which could translate into significant cost savings. You'll also save on the direct costs of advertising your positions. You'll be able to fill your full-time positions faster, so you'll save on the cost of having the position remain empty. And with a lower turnover rate, you'll save on hiring and training costs, too.