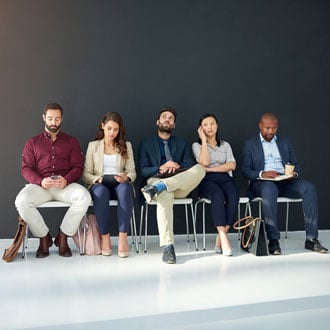 As so many companies have already discovered, there are plenty of benefits to using a Canadian staffing agency, no matter what type of role you're hiring for. Currently, many companies prefer to engage a staffing firm to help them find temporary workers; they can see the cost- and time-saving benefits of letting agencies take the lead, especially when many temporary roles need to be filled quickly.
Many companies are also now using a Canadian staffing agency to handle the hiring of permanent staff. Below we share with you the reasons why they do so; we're convinced you'll want to give it a go as well!
To Hire the Right Fit—Picked from a Wider Candidate Pool
One of the key differences between a temporary hire and a permanent one is that, with the latter, it is absolutely imperative to find the best match for the role. With a temporary hire, you may have a bit more flexibility, but with a permanent hire, you want to make sure you're getting the best of the best. This is because your organization will be investing a lot of time, energy, and resources into this individual—you want to make sure it's worth your time.
However, finding the best candidate on your own can be tough. You likely only have access to candidates who are actively seeking out work, the ones who apply to your job posting. But if you work with a Canadian staffing agency, you'll have access to a vast pool of candidates, whether passive or active job seekers. This means you can be sure that the best possible candidates are being sought out for the position.
Canadian staffing agencies are also pros at finding the right fit. They help you nail down what you're looking for in the role, come up with an awesome job description or ad that captures the heart of what you want, and then they help you find someone who is the right fit by looking at candidates holistically (finding the right cultural, experienced, and adaptable fit).
To Save Time
If you're not hiring and recruiting often, chances are you're a little rusty at it. And it is a lengthy process, involving reviewing resumes, contacting candidates, conducting interviews, checking references, and testing skills. Because there is only so much you and your team can do in a day, other priorities will invariably fall by the wayside.
Fortunately for you, Canadian staffing firms never stop recruiting and they know what they're doing and how to do it fast. They can contact pre-vetted candidates to hire even faster, allowing you to interview only the best of the best. This means your team can focus on your core competencies while ensuring that high quality recruiting is being done.
To Reduce Your Risks
Permanent hiring can be risky. Not only is it time- and resource-consuming to evaluate and recruit candidates, but you never know if the person you hire is actually the best candidate for the job. In fact, you don't know that individual well enough to know if they will stay beyond the first month!
Hiring the wrong person can be costly and will waste everyone's time. But a Canadian staffing agency can help you find the right person from the start. They have the recruitment expertise, a wide pool of qualified candidates, and they have the opportunity to get to know these candidates beforehand to understand the types of people they are. They also give you the option to "try before you buy"–meaning you can hire someone through the agency, and if you like their work, you can then hire them on full time.
Partner with us for your staffing needs. Contact Liberty Staffing.