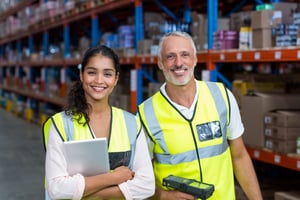 With the holidays fast approaching, you'll probably have more bills and finances to take care of. Why not accept a temporary job? Liberty Staffing Services offers temporary positions in general labour, warehouse, and office fields.
There are many benefits of accepting a temporary role. It's a great way to earn some extra money, a good way to get your foot in the door, you can work temporarily while you wait to obtain something more permanent, the hours are flexible, and you can establish professional networks.
Here are a couple other great reasons why you should accept a temporary job from Liberty Staffing this holiday season. Read on.
1. Earn Some Extra Money
Looking to earn some extra money for the holiday season? Taking on a temporary job will help you financially. Our temporary positions pay from $14 per hour (minimum wage in Ontario) and up (depending on the position). Night or rotating shifts normally pay more, and the more specialized the position, the more money the employer will pay.
Liberty Staffing pays on a weekly basis, so you can receive your hard earned money quickly.
2. Add to Your Resume
The great thing about temporary work is that you can work in a variety of fields, on a short term basis. Every temporary role that you work, you can add to your resume. After all, with every new job comes new things that you learn, and new skills that you can add to your resume. Even if the position is only for a couple of days, you should be adding the information to your work experience.
3. May Lead to Permanent Employment
All temporary positions have the possibility to become permanent. If you enjoy the work, and you work hard at your temporary assignment, the employer may ask us to hire you on permanently.
A temporary job is all about what you make it. If you arrive on time, put in the work, and continue to do so for every shift of your temporary assignment, you may be kept on, or asked to come back to the company next year.
Ready to accept a temporary job? Contact Liberty Staffing Services today!